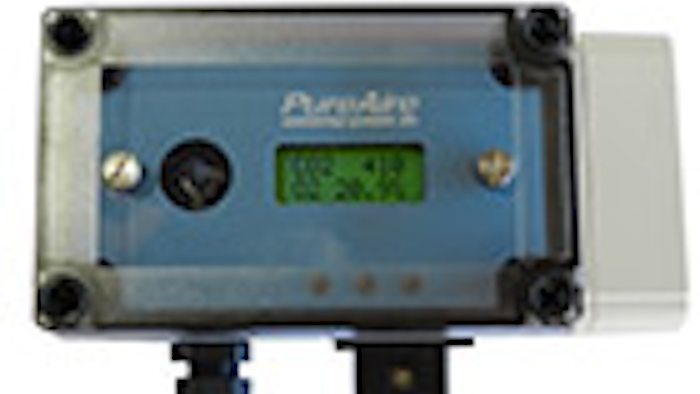 The Air Check O2/ CO2 monitor is suitable for continuous monitoring of areas using CO2 in combination with other cryogenic gases. It 
simultaneously detects any oxygen deficiency as well as levels of CO2 from 1 to 10,000ppm. This product would be ideal for use in inert gas storage areas, CO2 beverage gas distribution areas and any place where CO2 is present in a confined space. The monitor can be linked to most commercially available programmable logic controllers (PLCs) and comes ready to plug in and use out of the box. Another feature includes user adjustable oxygen deficiency and CO2 audible alarms that can be hooked into a horn and strobe system if needed. This new monitor includes a long-lasting zirconium sensor, which operates maintenance free for 10+ years. The monitor responds to gas leaks or oxygen changes within seconds, and provides accurate measurements over wide temperature and humidity ranges (-40° to 122°F and 0 to 99% RH, respectively).
PureAire Monitoring Systems, Inc.