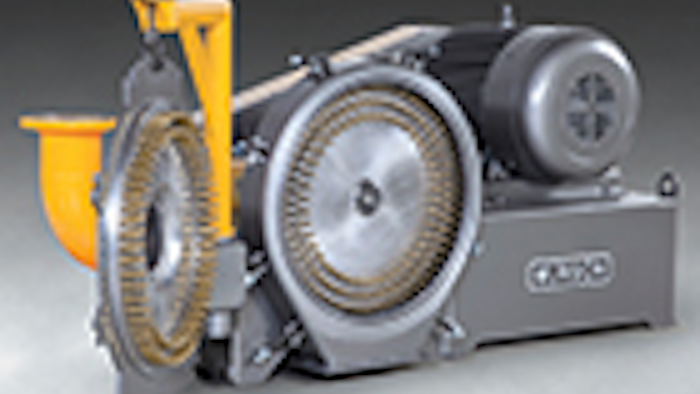 A new 24-inch (610 mm) diameter Pin Mill model CIM-24-MS grinds, sizes, de-agglomerates and homogenizes friable or other materials into controlled particle sizes, from coarse to fine (400 mesh). Also known as a Centrifugal Impact Mill, it is equipped with a stationary outer disc and 
a rotating inner disc, both of which are precision-machined and studded with impactor pins. Typical applications include rice flour, starches, sugars, spices, vitamin powders, grains, sodium compounds, fertilizers, resins, clays and other friable products. The rotating disc rides on oversized pillow-block bearings and is driven by a 40 to 60 hp (30 to 45 kw) motor with V-belt/sheave arrangement, delivering high throughput per hp/kw compared with machines employing screens, hammers, knives or rolls. Constructed of mild steel with abrasion-resistant disc pins and durable exterior finish, it is available with all material contact surfaces of stainless steel finished to food and pharmaceutical standards, and of abrasion-resistant steel for processing of exceptionally hard or sharp materials.
Munson Machinery Company, Inc.