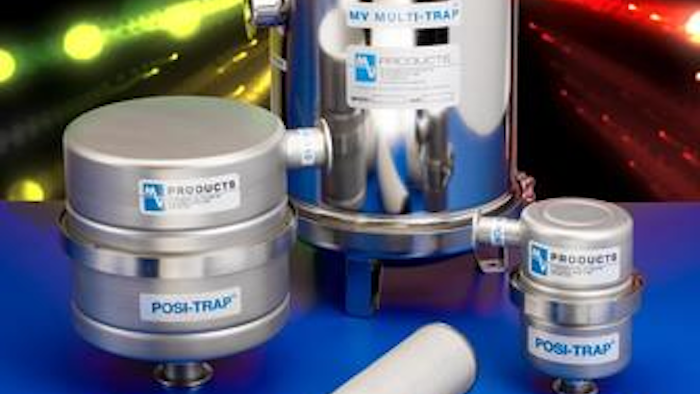 MV Products introduces a full line of vacuum inlet traps for protecting vacuum pumps ranging from small sizes in research laboratories up to scalable production systems used for 
manufacturing organic LEDs, carbon nanotubes, thin film batteries, and graphene. These vacuum inlet traps feature user-selectable filter elements for removing the corrosive gases and abrasive particles created by processes that use volatile organic compounds (VOCs). Designed for easy in-line installation and filter changes, these traps come in a wide range of sizes for protecting all types of vacuum pumps from fluid contamination and oil back streaming. Suitable for applications from 1 to 5,000 CFM, the inlet traps are made from stainless steel in sizes ranging from 4" dia. with one filter to 16" dia. traps stacked with 16 filter elements. Filters include stainless steel- and copper-gauze, molecular sieve, activated alumina or charcoal, micron-rated pleated polypropylene, and Sodasorb.
MV Products, Division of Mass-Vac, Inc.