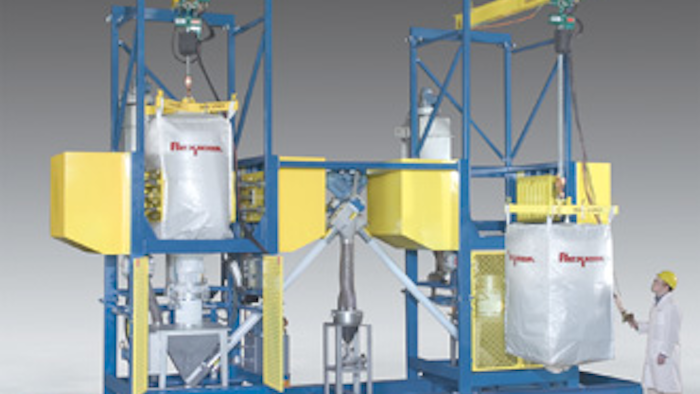 A new bulk bag weigh batch eductor system from Flexicon loosens bulk solid material that has solidified during storage and shipment, discharges the material by weight and blends it into a liquid stream. The skid-mounted system incorporates:
Two bulk bag unloading frames, each with an integral bulk bag conditioner comprised of a hydraulic pump and two rams with contoured end plates that press opposing sides of bulk bags.
Safety interlocks that disallow operation of the conditioner when the unloaders' doors are open.
A Spout-Lock® clamp ring that forms a high-integrity seal between the clean side of the bag spout and the clean side of the equipment.
A Tele-Tube® telescoping tube that maintains constant downward pressure on the clamp ring and bag spout, elongating the bag as it empties to promote complete discharge.
A Power-Cincher® flow control valve employing a series of curved, articulated rods that cinch the bag spout concentrically, allowing dust-free retying and removal of partially-empty bags.
Surge hoppers equipped with flexible screw conveyors that gravimetrically feed bulk solids into a central solid-liquid eductor that blends the material into a liquid stream in variable ratios set by the user.
sales@flexicon.com
www.flexicon.com