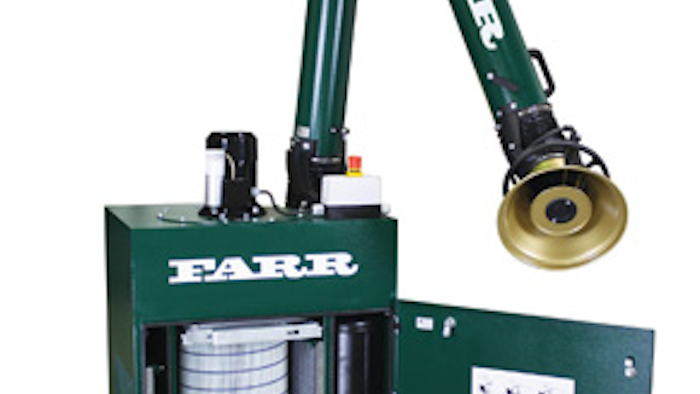 Farr Air Pollution Control (APC) has introduced the Zephyr® III portable dust and fume collector with three-stage filtration. Features of the system include:
Large wheels and brakes for easy movement and positioning.
Three stages of filtration: a metal filter that functions as a spark trap, a main filter for fine particle removal and a carbon final filter for odors and gases.
Three main filters available: Gold Cone® HemiPleat® filter with fire retardant media in either standard efficiency (MERV 12 or 99.99 percent on 0.5 micron and larger particles) or high efficiency (MERV 16 or 99.999 percent efficiency) and a DuraPleat® washable filter (MERV 12 or 99.99 percent efficiency).
Venturi-assisted pulse cleaning system.
Quick-clamp system for cartridge sealing and ease of removal.
Airflow capacity of 700 cfm at the capture hood (1,250 cfm free air).
Durable powder-coated surface finish inside and out.
Roll-out dust drawer with grid to minimize dust re-entrainment.
filterman@farrapc.com
www.farrapc.com/products/zephyr/