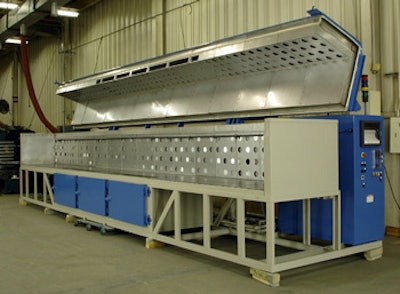 The Grieve Corporation's No. 1007 is an electrically-heated, 500º F (~230ºC) top-loading oven, used for curing composite components. The oven features:
Workspace dimensions of 26-1/2' wide × 2' deep × 2-1/2' high.
60 KW of power using Nichrome wire heating elements.
3-HP recirculating blowers, totaling 9000 CFM for horizontal rear-to-front airflow.
4" insulated walls, aluminized steel interior and exterior, motor-operated rear-hinged door and compressed air manifold with eight connections.
NEMA 12 electrical standards compliance.
Reinforced workspace floor for 5000 lb. loading.
A digital programming temperature controller, 16-point strip chart recorder and tower light to indicate machine status.
sales@grievecorp.com
www.grievecorp.com