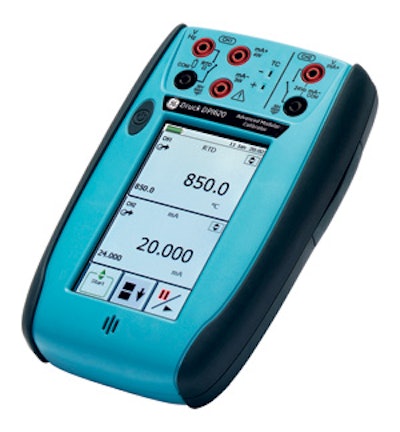 The hand-held DPI 620 advanced multifunction calibrator from GE Sensing & Inspection Technologies now incorporates full HART® capability, making it the only combined HART communicator and calibrator currently on the market. The incorporation of a calibrator within the communicator means that there is no need to carry ancillary equipment such as multi-meters to measure mA when trimming sensors, and there is naturally no need for secondary calibration equipment during sensor trim and device calibration. The calibrator:
Is weatherproofed to IP 65.
Contains a complete library of registered HART device descriptions to support more than 1000 sensors.
Has a full color, high resolution touch interface.
Can store procedures and data log files.
Uses USB, WiFi, memory stick or memory card for data transfer.
Has a menu-selectable 250 Ohm loop resistor.
Is available in a Windows CE version.
Has on-board pressure generation from vacuum to 100 bar pneumatic or 0 to 1000 bar hydraulic, at an accuracy of 0.005 percent FS.