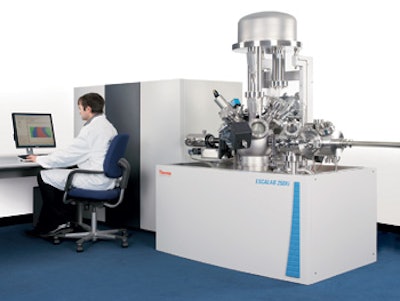 Thermo Fisher Scientific Inc. has released the Escalab 250Xi X-ray photoelectron spectrometer (XPS). This surface characterization tool is designed for surface chemistry research and development applications as well as routine characterization of surfaces, thin films and coatings. Features of the system include:
Thermo Scientific Avantage XPS acquisition and processing user interface.
Advanced parallel image detection system for quantitative spectroscopic analysis of small features within the image field of view.
Avantage Data System, which uses an optimized workflow to guide analysts through data acquisition, interpretation, processing and report generation.
Customized laboratory reporting templates that can be exported to standard PC applications such as Microsoft® Office.
Configurable with ion scattering spectroscopy (ISS) and reflection electron energy loss spectroscopy (REELS), with optional ultra violet photoelectron spectroscopy (UPS) and Auger electron spectroscopy (AES) configurations available.
A sample preparation chamber.
[email protected]
www.thermo.com/surfaceanalysis