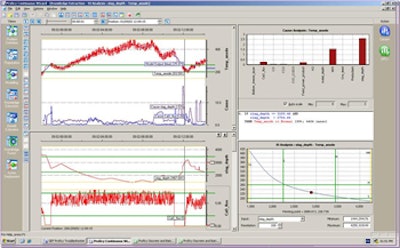 GE Fanuc Intelligent Platforms introduces Proficy® Troubleshooter and Proficy Cause+, advanced analytics solutions designed to maximize the information that already exists in production operations, extract knowledge from that information and identify the opportunities to solve potential production issues before they impact the process. According to the company, the new solutions provide a three-step process for advanced analysis: the company's Proficy Historian 3.5, the company's plant-wide data historian that collects, archives and distributes real-time plant floor process information at high speeds, Proficy Troubleshooter, to analyze process variation and identify causes for production problems and identify the opportunity for preventing these problems in the future, and Proficy Cause+ that wires in the real-time data and introduces alarms based on causal relationships within the process. Features of Proficy Troublshooter include:
Powerful multivariate modeling and data-mining techniques.
No required background in advanced statistics or modeling.
A clear path to real-time solutions for the user - deploying insights as a real-time intelligent monitoring and advisory solution, with outputs displayed in Proficy HMI/SCADA and web-based reporting.
Proficy Cause+ features:
The ability to report on causes over specified periods of time for production management and process engineers.
Enabling of real-time causes of process problems (e.g. bad batches), real-time corrective actions to address process problems, wizard-based and custom development and simulation of a real-time solution before deploying it within Proficy HMI/SCADA.
Model- and rules-based cause identification.
Web-based reporting of causes over user-defined periods.
Causes-based intelligent alarming.
Capturing of expert knowledge for real-time expert system use.