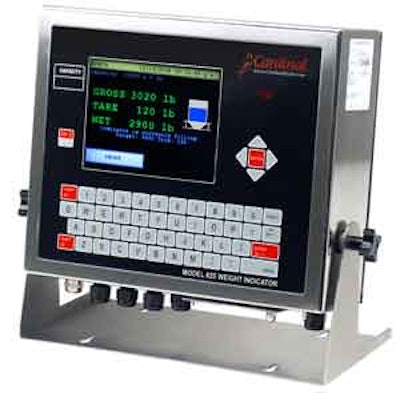 Instantly determine material inventory with the Cardinal Scale 825 Spectrum weight indicator's ability to view 10 scales onscreen simultaneously. The indicator incorporates:
The power to check on your entire tank farm's stocking levels in 1 scan of the eye.
Recall of individual scale information by touching a scale's weight onscreen to set zone target values and ranges and zero weight, in addition to apply tare weights.
The capacity to easily handle up to 10 scale cards weighing at 200 samples per second independently.
Dynamic trim that constantly adjusts trim sizes for powder-/bulk-weighing applications to achieve the most accurate cutoff.
Instantaneous gate cutoff, which is ideal for digital fill control applications.
A large 640- by 480-pixel color LCD.
2 speedy 32-bit ColdFire® processors with 64 MB of user memory.
Availability of static trim for applications without variation, such as liquid-weighing applications.