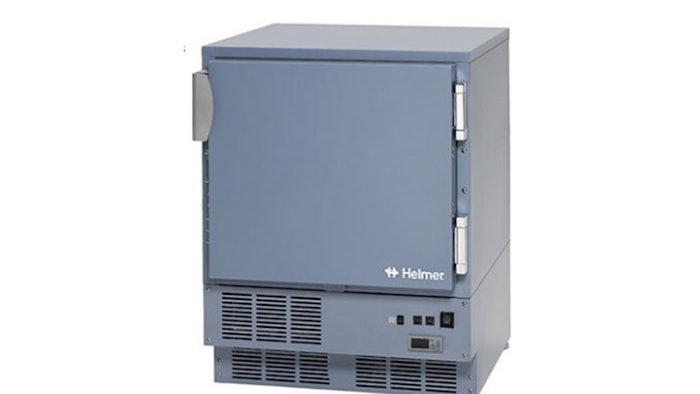 Undercounter Pharmacy Refrigerator
Fullerton, CA – Storage of pharmaceuticals is possible in an ADA-compliant undercounter refrigerator from Helmer Scientific. Available at Laboratory-Equipment's website, these Scientific Series™ models provide air-cooled temperature uniformity to protect raw ingredients or finished product. Doors are self-sealing so that set-point temperature is quickly attained after access. A hospital-grade plug ensures safe utility connection and operation.
The digital, LED microprocessor temperature controller located on the door displays the internal temperature and allows adjustments. Temperature range for the unit is 2°C to 10°C (35.6°F to 50A248F). Refrigerators are available in 4-liter (ADA-compliant) and 5-liter capacities. Low humidity levels achieved by a condensate evaporator with fans prevent the build-up of moisture.
Interior and exterior are made from bacteria-resistant powder coating. Inner walls are insulated with two inches of environmentally friendly GRAS-approved foam. Two shelves help to organize supplies, and units are stackable to make the most of valuable floor space.
Laboratory-Equipment, a Terra Universal brand, offers hundreds of top-tier laboratory instruments and supplies. For more information about Helmer Scientific's Scientific Series Undercounter Pharmacy Refrigerators, visit Laboratory-Equipment's website.