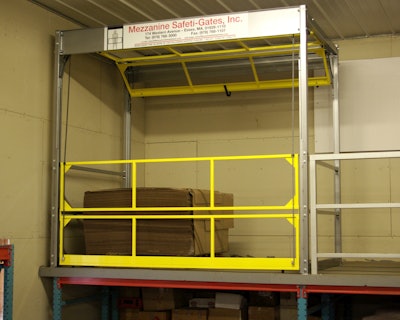 Mezzanine Safeti-Gates, Inc., an innovator in the design and manufacturing of safety products for warehouses and distribution centers, announced updates to its entire safety gate line. Providing improved durability, safety and ergonomics, the new G Series provides key updates to the company's original dual-gate pallet drop system, including full-length four-rail guardrail systems with four-inch kick plates that do not reduce clear height and a welded track system and chain drive system. The enhancements have been made to the entire line of safety gates, including the original Roly Safeti-Gate, as well as the Tri-Side, Pivot, Open Top and Rack Supported models.

The G Series gates are designed to maximize clear height for operator and load, and feature solid four-inch kick plates on both the ledge and rear-side gates as well as the sides of the unit. In addition, impact plates on posts have been added to minimize damage during lift truck loading. Series G gates also feature a heavy-duty chain and sprocket drive system with chain guards, a proprietary locking mechanism to lock the chain in place and a rugged welded track system with rounded dull edges to create a smooth transition for the gates when in use. Wire mesh panels for gates or sides of the unit are now an available option.

"For over 30 years, our safety gates have been protecting workers and product from falling off elevated platforms and mezzanines," said Aaron Conway, president, Mezzanine Safeti-Gates. "Often imitated but never duplicated, our safety gates are now even more durable and ergonomic with these updates, and they provide customers peace of mind they they are complaint with industry regulations. Our engineers work to ensure all of our gates provide the utmost protection, whether it is a standard application or custom project."

Used in thousands of locations throughout the world, Mezzanine Safeti-Gates uses a dual, counterbalanced gate system that maintain a safe environment at all times and ensures OSHA and IBC compliance. The interconnected steel gate design creates controlled-access areas in order to meet new ANSI standard requirements for pallet drop areas. Rack supported models can also be used to secure the ledges of multiple deep pallet flow lanes.

The Series G gates are available in single and double wide pallet widths, and can be customized for large pallet loads or to accommodate specific pallet widths, depths and heights. The gates are idea to protect pallet drop areas in doorways. All gates are available in powder coated mild steel or electro-polished stainless steel. To learn more about the Series G safety gate line or to discuss specific pallet drop applications, visit Mezzanine Safeti-Gates at http://www.mezzgate.com.