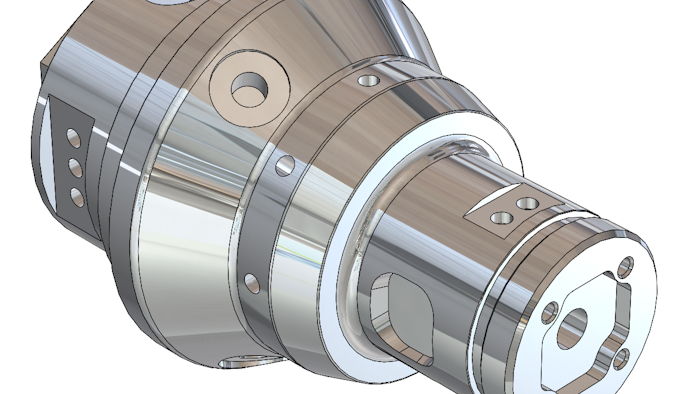 BobCAD-CAM, Inc announced today the release of the new BobCAM for SOLIDWORKS™ V5 CNC programming software. The latest software includes more features, modules, and overall system improvements than ever before. This version adds two completely new add-on modules: Mill Turn, a CAM programming product, and BobART, an artistic CAD application.

Overall System Enhancements

BobCAM for SOLIDWORKS™ operates as a plug-in product for the SOLIDWORKS™ design software. It offers advanced surfacing capabilities, Dynamic Machining Strategies™, an intuitive wizard driven interface, a realistic machine simulator, and can even generate g-code programming. It allows SOLIDWORKS™ users to go from designing part models to applying CAM machining operations without ever leaving the SOLIDWORKS™ interface.

Developers at BobCAD-CAM focused on adding features that increase control and reduce the amount of time machinists spend programming. New features include better surfacing toolpaths, smarter hole making capabilities, more tool types, new tabbing options, and much more

New CNC Mill Turn CAM Software

BobCAM for SOLIDWORKS™ V5 marks the release of a brand new add-on for mill turn machining. Mill turn may also be called turn milling, multitasking, and can even refer to a lathe equipped with live tooling. The CAM module supports nearly all types of mill turn machines, including machines with Y axis capabilities and multiaxis machines that include a milling spindle.

New BobART Artistic CAD Software

The BobART add-on for V5 is the first BobCAM version to include BobCAD-CAM's popular artistic CAD application. This new version can be used right inside of the SOLIDWORKS™ design software. BobART can do everything from engraving logos, creating raised or sunken text, all the way to sculpting and creating artistic models. The artistic CAD add-on is ideal for creative industries, particularly sign or cabinet makers, artists, and anyone looking to get creative with CAD design and machining.

Availability

Demos of the new BobCAM for SOLIDWORKS™ V5 software, Mill Turn add-on, and BobART module are available for immediate download from BobCAD.com. The software goes on sale today. It's available online or by phone.