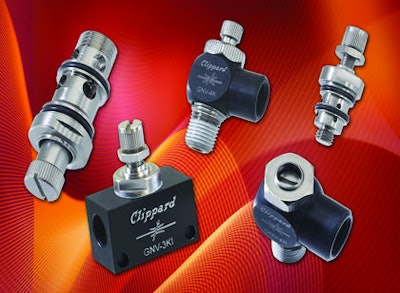 Needle Valves are used to control the rate of flow in a pneumatic system by controlling flow in both directions. Material enters the input port, travels through an adjustable orifice and out the output port. Clippard's new GNV series is available with 1/8", 1/4" and 3/8" port sizes with flow rates up to 60 scfm at 100 psig.
Mounting options include direct and in-line, as well as cartridge styles. Adjustment is achieved by either a recessed slot or knurled knob.
• Provide bidirectional flow control
• Rotating input allows 360° positioning
• Rugged and compact design
• Multiple mounting options
• 360° rotating ports
• Ideal for use with Clippard push-quick fittings

For more information about these needle valves or any of Clippard's other quality pneumatic products, call 513-521-4261 or visit www.clippard.com.