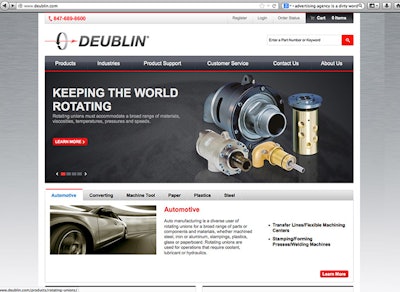 Waukegan, Ill. — A new website is now available from Deublin Company, a global manufacturer of rotary unions used in a variety of equipment and process industries. The new website includes hundreds of products available for purchase via secure credit card transaction, along with detailed specifications and application information.
"We are very proud of the new Deublin website," explains Rob O'Brien, VP Sales & Marketing at Deublin Company. "The site will better serve our customers with detailed information and a user-friendly interface."
Deublin Company is privately held with international headquarters in Waukegan, Illinois, outside of Chicago, and manufacturing or sales locations in 17 countries. Founded in 1945, Deublin manufactures a broad range of precision components including rotating unions, steam joints and siphons, and electrical slip rings. Applications include machine tools, steel manufacturing, oil and gas exploration, plastic, paper and corrugating equipment, wind turbines, mining and more.
[[{"fid":"31464","view_mode":"default","fields":{"field_file_image_alt_text[und][0][value]":"","field_file_image_title_text[und][0][value]":""},"type":"media","attributes":{"height":511,"width":700,"class":"media-element file-default"}}]]