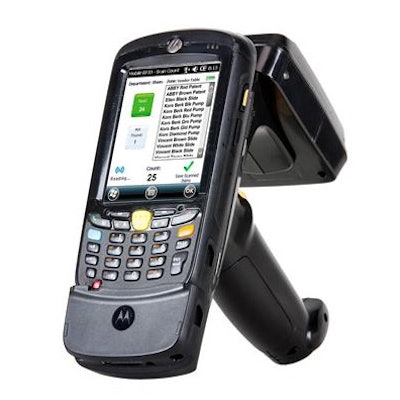 Schaumburg, Ill. (Manufacturing.net) — Motorola Solutions, Inc. has today announced the RFD5500 UHF RFID sled, which can instantly turn the MC55N0, MC55A0, MC65 and MC67 mobile computers into lightweight, rugged, handheld RFID readers. These deliver fast read times and improved productivity for warehousing applications.
By using Motorola's UHF RFID technology, the sled offers better read range and coverage area, with no need to precisely align the reader with the tag, and ensuring readability on more challenging items. In addition, the RFD5500 offers a combination of audible and visual cues to help guide the user toward the precise location of the desired item — as the device gets nearer, the tone beeps louder and faster, while a sliding graphical bar increases in size.
The RFD5500's dual data capture functionality — via the RFID reader or manual entry — means that mobile workers can locate products, read non-line-of-sight RFID data and capture poor-quality bar codes without interruption workflows.
Check out www.motorolasolutions.com to learn more.