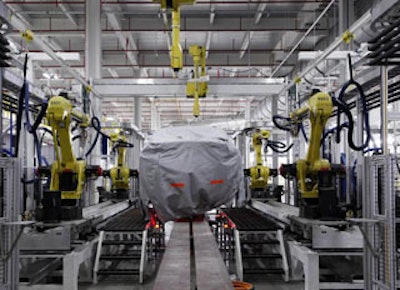 STERLING HEIGHTS, Michigan (AP) -- Chrysler will start selling a completely new midsize car during the first quarter of next year, company executives confirmed on Tuesday.
The replacement for the aging Chrysler 200 and Dodge Avenger is badly needed for the company to compete with the likes of the Toyota Camry and Honda Accord in the most popular part of the U.S. auto market.
Chrysler officials gave few details about the new car. It will be built at a factory in Sterling Heights, north of Detroit, where the 200 and Avenger are now built. The officials confirmed the timing of the car Tuesday while taking reporters on a tour of the factory's new paint shop.
Chrysler's current midsize cars were unveiled in 2006 and updated three years ago. Their designs are the oldest in the midsize car market, and buyers pay far less for them than nearly all competitors. The 200 and Avenger generally are noisier, get lower gas mileage and have worse rides than the competition, a bad combination in the hotly contested market.
The new car likely will be built with components jointly designed with Italian automaker Fiat SpA, which owns a majority stake in Chrysler.
Through June, Chrysler has sold just 136,000 200s and Avengers combined. While sales are up over last year, they're far below the top-selling cars in the midsize segment. For instance, Toyota sold almost 208,000 Camrys through June, while Honda sold 187,000 Accords. Crosstown rival Ford sold 161,000 Fusions and had to open a second factory to build them because of rising sales.
The new 898,000-square-foot paint shop in Sterling Heights is about 85 percent complete. When finished, it will be able to paint any Chrysler or Fiat vehicle except for big pickup trucks and large commercial vans, said John Powell, senior manager of the shop. The plant also is getting a new $165 million body shop.
The paint shop, along with upgrades to two nearby metal stamping plants, cost $850 million. It's scheduled to open early next year.
The investment is good news for the factory's roughly 2,600 employees. The plant was slated to be closed in 2009 when Chrysler emerged from bankruptcy protection but was saved when demand for midsize cars increased.
---
More from MBTMag.com
U.S. Factories Increase Output For 2nd Month
Diamond Electric Pleads Guilty To Price Fixing
OSHA: NY Factory Agrees To Fine After Explosion
Explore more news here.