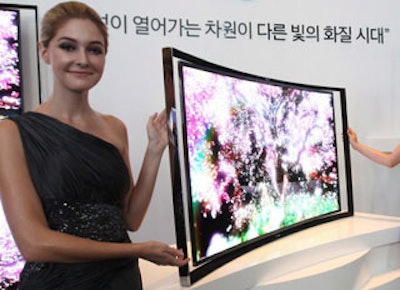 Flat screens have been a selling point for TVs for more than a decade. Now, LG and Samsung are making a selling point of screens that are not flat.
The two Korean electronics companies are launching TVs in the U.S. this week that have concave screens, where the middle bends away from the viewer. That's the opposite of the convex bulge of the old cathode-ray tube TVs. The idea, the companies say, is to have the viewer see the screen straight on, even at the edges.
The sets have a suggested price of $15,000. LG's set will be sold in some Best Buy Stores. Samsung's will be sold by specialty stores.
The curved sets are made possible by a technological breakthrough — the picture is formed a thin, bendable layer of organic light-emitting diodes. OLED screens are common in high-end smartphones, but larger sizes are difficult to make, accounting for the high price of the new sets.
---
More from MBTMag.com
Ohio Plant Ramping Up Production Of Jeep Cherokee
Flowers Foods Completes Hostess Bread Buyout
Toyota Sudden Acceleration Case Set To Begin In CA
Explore more news here.