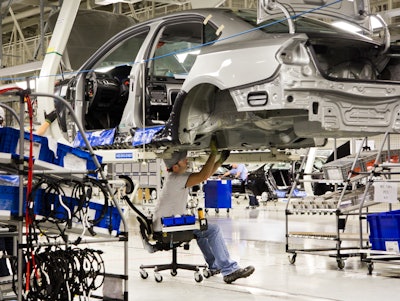 NASHVILLE, Tenn. (AP) — The United Auto Workers on Monday qualified for the top tier of a new labor policy at the Volkswagen plant in Tennessee, giving the union its first formal role within a foreign-owned auto plant in the South.
Volkswagen said that an independent auditor had verified that the UAW's Local 42 had signed up at least 45 percent of workers at the Chattanooga plant. That will entitle the union to biweekly discussions with managers and to frequent access to the plant for meetings, notices and other organizing activity.
While the policy doesn't address collective bargaining, UAW Secretary-Treasurer Gary Casteel called it a "starting point" for achieving that goal at the plant where he said the union already represents more than half the workers.
The UAW narrowly lost a union vote at the plant in February after a campaign that included warnings from Republican lawmakers that state incentives needed to expand the plant could be threatened if the union won.
Casteel said that negotiations with Volkswagen management later resulted in the union dropping a National Labor Relations Board challenge in exchange for later being recognized as the representative of its members at the plant without another vote.
"We believe Volkswagen made this commitment in good faith and we believe the company will honor this commitment," Casteel said.
Under federal labor laws, a company is allowed — but not required — to recognize a union that has signed up at least half of all workers. UAW opponents like Tennessee Gov. Bill Haslam have called on Volkswagen to require another secret ballot.
Organizing foreign-owned auto plants has been seen as key for the UAW to revive its fortunes. Union membership stood at about 391,000 at the start of this year — a far cry from its 1979 peak of 1.5 million.
Volkswagen's policy of giving labor groups access to its plant stands in contrast to other foreign automakers in the South, which have largely tried to tamp down union activity.
The company has said the policy is aimed at developing a "constructive dialogue" between workers and management beginning with labor groups that sign up at least 15 percent of workers. Workers who spearheaded the 712-626 defeat of the UAW in the February union vote have created their own organization called the American Council of Employees, but have so far failed to qualify under the plant's new labor policy.
VW management has been under heavy pressure from powerful worker representatives who control half of the automaker's board in Germany because the U.S. plant is alone among the company's worldwide plants without labor representation.
The company wants to create a German-style works council at the Tennessee plant to represent salaried and hourly workers. Under that model, wages are bargained through the union, while the council negotiates matters like job security and working conditions.
The same law requiring labor representation on the Volkswagen board also applies to other German automakers with factories in the South, like BMW and Mercedes parent Daimler. The UAW has so far failed to make inroads at those companies' plants South Carolina and Alabama, and Republican officials there have been keen to keep it that way.
---
More from MBTMag.com
Economists Forecast Fast Growth In 2015
High Court Rejects BP Appeal Of Spill Settlement
Apple Exec Sentenced To 1 Year In Prison
Explore more news
here
.