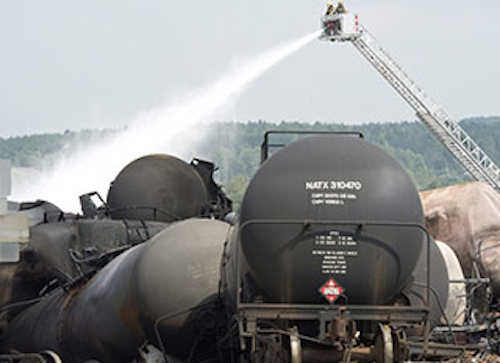 OMAHA, Neb. (AP) -- Proposed new safety standards for rail cars that haul flammable liquids gained support from U.S. railroads Thursday, but it's not yet clear whether the companies that own most of those cars will support the upgrades to prevent leaks.
The Pipeline and Hazardous Materials Safety Administration is considering a plan intended to fix a dangerous design flaw in a rail car commonly used to haul oil and other hazardous liquids from coast to coast.
Safety experts say the soda-can shaped car, known as the DOT-111, has a tendency to split open during derailments and other major accidents.
Concerns about the tank cars are higher now because of the fiery train crash in July in Lac Megantic, Quebec — near the Maine border — that killed 48 people and because railroads are hauling significantly more crude oil.
U.S. railroads are supporting new safety standards for rail cars that haul flammable liquids to address flaws that can allow crude oil, ethanol and other substances to leak during accidents.
The Association of American Railroads said Thursday that railroads support making upgrades to the fleet of 92,000 tank cars that carry flammable liquids. Of those, 14,000 cars are newer cars built to current safety standards.
"We want to aggressively move on phasing these out," said Ed Hamberger, president of the railroad trade group, said of the older cars.
Hamberger said the new standards can help make the tank cars even safer than they already are, but better cars are only one part of the overall effort to ensure safety.
It is an opportune time to improve safety standards because many oil producers and refiners are investing in new cars to handle the surge in domestic oil production. The number of carloads of oil railroads are delivering jumped to 233,811 last year from 10,000 in 2009, and in the first nine months of 2013, railroads delivered 319,901 carloads of oil.
Railroads generally don't own the tank cars. The oil and chemical companies that own them will also likely comment on the proposed rule before the agency's Dec. 7 deadline.
A final rule isn't expected until next year. Officials from the agency drafting the rule didn't immediately respond to a message Thursday morning.
Defects in the DOT-111 tank car's structure were noted as far back as 1991.
The AAR says there are 228,000 DOT-111 cars in the fleet of 335,000 active rank cars being used currently. Of those, only 92,000 are used for flammable liquids like crude oil and ethanol.
The industry adopted voluntary standards ensuring that all DOT-111s ordered after October 2011 meet tough requirements recommended by the National Transportation Safety Board, following a 2009 crash outside Rockford, Ill., that killed a woman and injured 11 others.
That means about 78,000 of the cars that carry flammable liquids were built to older standards.
The NTSB has said the older DOT-111 cars have a steel shell that is too thin to resist puncture in accidents, and the ends of the car are vulnerable to ruptures. Valves used for unloading and other exposed fittings on the tops of the tankers can also break during rollovers.
The railroad trade group said about 30 percent of the tank cars being used to move crude oil today meet the 2011 voluntary standards the industry adopted.
Online:
Association of American Railroads: www.aar.com
Pipeline and Hazardous Materials Safety Administration: http://phmsa.dot.gov
---
More from MBTMag.com
Next Generation Of Biofuels Still Years Away
3 Hurt In Tesla Factory Hot Metal Spill
BlackBerry Says $1B Investment Is Complete
Explore more news
here
.