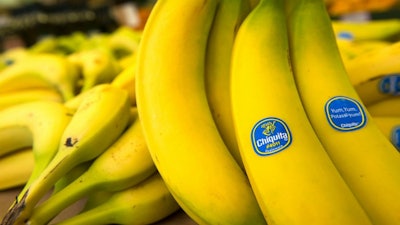 NEW YORK (AP) — Two Brazilian companies are raising their bid for banana company Chiquita to approximately $658 million.
Investment firm Safra Group and juice company Cutrale Group said Wednesday that they are now offering $14 per Chiquita share, up from their previous bid of $13 per share. That's an approximately 6 percent premium to Chiquita's Tuesday closing price of $13.16.
Chiquita already has a merger agreement in place with Irish fruit importer Fyffes that would give Chiquita's stockholders nearly a 60 percent stake in the combined company under an all-stock deal. Fyffes shareholders would own about 40 percent. If the deal goes through, it would create the world's largest banana supplier.
Safra and Cutrale initially made its $13 per share, or $611 million, buyout offer to Chiquita in August. Chiquita agreed to talk with the companies and said in September that it would open its books to them.
That same month Fyffes' proposed merger agreement with Chiquita was revised to give Chiquita shareholders a larger stake in the combined company. The nearly 60 percent stake that is currently part of the deal is up from approximately 51 percent, while Fyffes shareholders are seeing their interest drop to about 40 percent from more than 49 percent.
Safra and Cutrale said Wednesday that they believe their offer is superior to Fyffes, saying it gives Chiquita stockholders "complete certainty with respect to the value of their Chiquita investment."
Chiquita and Fyffes announced their agreement last March. The new company will be incorporated in Dublin, where Fyffes is headquartered. Chiquita is based in Charlotte, North Carolina.
Under a so-called "inversion," a U.S. business will reincorporate in another country after combining with a foreign company. It is then possible to lower the U.S. tax rate of the company.
The practice has become a hot-button issue. Critics, including high-ranking lawmakers, have said that inversions create a heavier tax burden for others.
Fyffes has previously said that the Chiquita merger is not a tax based or driven transaction.
Safra and Cutrale have submitted their revised offer to Chiquita Brands International Inc.'s board. The companies said that they don't expect there are any regulatory hurdles that would prevent them from closing on a deal promptly.
Chiquita said Wednesday that it has received the revised bid from the two companies and that its board will carefully review it.
A representative for Fyffes did not immediately respond to an email seeking comment.
Shares of Chiquita climbed 46 cents, or 3.5 percent, to $13.62 in morning trading. Its shares are up almost 30 percent in the past three months and more than 8 percent over the past year.
---
More from MBTMag.com
Nike Suing Over Chuck Taylor Trademark Infringement
U.S. Producer Prices Fell In September
New York Factory Growth Slows
Explore more news

here

.