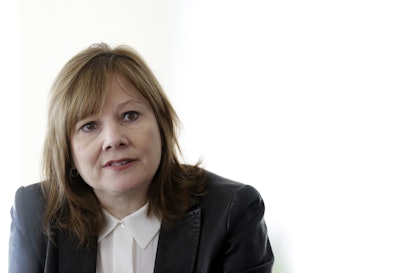 DETROIT (AP) -- The new CEO of General Motors is reassuring employees after an embarrassing recall of 1.6 million small cars, telling them that an internal review will bring improvements and prevent similar problems from occurring in the future.
A letter from CEO Mary Barra to employees explaining GM's handling of the recall was first posted on an employee Intranet site, then to a publicly accessible website. It appeared aimed at polishing the company's reputation after GM acknowledged it was aware for a decade about an ignition problem linked to 13 deaths, yet failed to recall the cars until last month.
The National Highway Traffic Safety Administration is investigating the timeliness of GM's recall, raising the potential of a $35 million fine for failing to report problems to the government quickly enough.
The cars involved were from 2007 or earlier, and last week GM doubled the number included in the recall. The company also issued a rare apology for the slow response and sought to assure customers and regulators that it now builds better cars — and handles problems differently.
Barra reiterated that message Tuesday.
"Our company's reputation won't be determined by the recall itself, but by how we address the problem going forward," Barra said in the letter, adding that it's important to show customers that it's "a new day" at GM.
The recall is an early challenge for Barra, who took over as CEO on Jan. 15. The CEO said she's leading a team that is overseeing the handling of the recall.
On Feb. 13, GM announced the recall of more than 780,000 Chevrolet Cobalts and Pontiac G5s (model years 2005-2007). Last week it added 842,000 Saturn Ion compacts (2003-2007), and Chevrolet HHR SUVs, Pontiac Solstice and Saturn Sky sports cars (2006-2007).
Since undergoing a painful bankruptcy in 2009, GM has removed layers of bureaucracy and improved the quality of its vehicles and is quicker to issue recalls when problems occur. However, the admission that its procedures were lacking 10 years ago shows how the old culture can still haunt the automaker.
GM says a heavy key ring or jarring from rough roads can cause the ignition switch to move out of the run position and shut off the engine and electrical power. That can knock out power-assisted brakes and steering and disable the front air bags. In the fatalities, the air bags did not inflate, but the engines did not shut off in all cases, GM said.
It was unclear whether the ignition switches caused the crashes, or whether people died because the air bags didn't inflate.
---
More from MBTMag.com
Lockheed Martin Expands Cruise Missile Production
Poor Dart Sales Lead To Layoffs At Chrysler
Explore more news
here
.