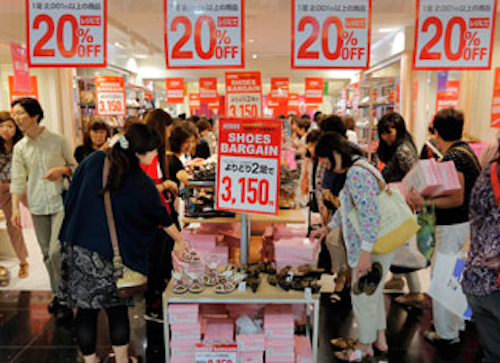 TOKYO (AP) — Japan got a dose of upbeat economic news Friday when the government said industrial production rose 2 percent in May from April, the fourth straight monthly increase, while the most-watched consumer price index stopped falling for the first time in seven months.
For years, Japan has been dogged by deflation, or falling prices, which can drag on economic growth, and the Bank of Japan has set a goal of 2 percent inflation within the next two years.
Prime Minister Shinzo Abe, meanwhile, has embarked on an ambitious economic revival program since taking office six months ago through massive monetary easing, public works projects and structural reforms — dubbed the "three arrows" of "Abenomics."
Data released by the government showed that the nationwide consumer price index minus fresh foods, which can be volatile, was unchanged from a year earlier after being in negative territory for six months. The last time it was zero percent was last October.
And the core CPI figure for June in Tokyo — often used as a predictor for the nation — rose 0.2 percent.
Investors bid up the Japan's benchmark stock index by more than 50 percent between the end of last year and May amid hopes for a revival, and the economy grew a stronger-than-expected 4.1 percent in annual terms in first quarter.
But share prices have fallen back over the past month amid concerns about the effectiveness of Abe's reform plans, a feeling that prices rose too high too fast, and concerns over the possible scaling back of the U.S. Federal Reserve's quantitative easing as the American economy improves.
The benchmark Nikkei 225 index jumped more than 3 percent by midday Friday, but those gains seemed more linked to a diminishing of concerns about the Fed's policies and a weaker yen, which was trading at about 98.7 yen to the dollar.
In another bit of other good news, the government said the jobless rate remained at 4.1 percent in May for a third month.
The outlook for Japan's vital manufacturing sector is a bit choppy. Despite the month-on-month gain, industrial production fell 1 percent compared with a year earlier. Manufacturers are projecting a 2.4 percent drop in June, followed by a 3.3 percent rebound in July, the Ministry of Economy, Trade and Industry said.
The report said shipments rose 0.8 percent from the previous month, while inventories fell 0.3 percent, an indication of increased economic activity.
Junko Nishioka, an economist at RBS Japan Securities Ltd., said she is optimistic that Japan's economy will continue to improve in the coming months.
"Domestic consumer demand is following the growth in industry production," she said. "I think it's the result of a promising economic push."
Nishioka said preliminary indications suggest the CPI will rise 0.4 percent in June. She said that the yen's depreciation, which boosts profits at Japan's giant exporters such as Sony Corp. and Toyota Motor Corp., should help to buoy the economy.
"In 2012, the CPI didn't stay up because the overall economy was looking down," she said. "I think what's different this time is that the depreciation of the yen looks strong. If that continues, the rest of the economy will follow."
Abe has said reviving the economy is his top policy goal, and trumpeted his economic accomplishments over the first six months of his administration on Wednesday.
"Just as we were losing hope that we may never get our economy to grow back, we regained some confidence and think that perhaps Japan can play an active role in the center of the world once again," Abe said.
He also said a strong economy is key to assertive diplomacy. "A country that has lost economic power cannot demonstrate strength in diplomacy," he said.
---
More from MBTMag.com
U.S. Unemployment Benefit Applications Fall To 346K
Chemical Safety Board Finds Lax Regulation Amid Fertilizer Probe
GE Transportation Moving Forward With Erie Cuts
Explore more news here.