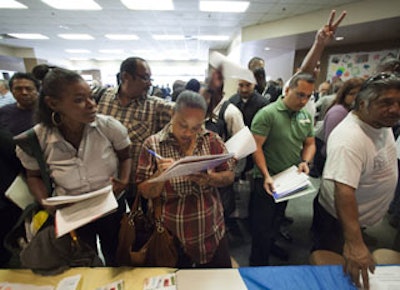 WASHINGTON (AP) -- The number of Americans applying for unemployment benefits rose by 7,000 last week to a seasonally adjusted 343,000.
The increase follows a drop of 22,000 the previous week. But the broader trend is consistent with an improving job market.
The Labor Department says the four-week average, which smooths out weekly fluctuations, fell 1,250 to 345,250.
Weekly applications data can be volatile in July. Automakers typically shut their factories the first two weeks of the month to prepare for new models, leading to temporary layoffs. But this year much of the industry has skipped or shortened the shutdowns to meet stronger demand.
Applications are a proxy for layoffs. They're down nearly 8 percent this year. Employers have added an average 202,000 new jobs a month this year, up from an average 183,000 in 2012.
---
More from MBTMag.com
HanesBrands Buying Maidenform For About $547.6M
Obama: Washington Took Its Eye Off Economic Ball
Ga. Company Receives 8 Labor Citations
Explore more news
here
.