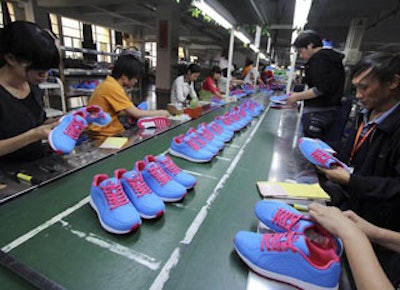 HONG KONG (AP) -- China's trade rebounded in July in a possible sign that the world's No. 2 economy is stabilizing following a slowdown over the past year.
The improvement offers small but encouraging hope for China's leaders, who are struggling to arrest a downturn that dragged growth to a two-decade low in the latest quarter amid weak global demand and efforts to cool a credit boom.
China's exports rose 5.1 percent from a year earlier in July while imports leaped 10.9 percent, customs data showed Thursday.
Economists had expected trade to grow after shrinking in June but the rate of growth surpassed expectations.
China's politically sensitive global trade surplus narrowed to $17.8 billion.
Economists said the surge in imports suggests that domestic demand is holding up, an important goal for China's policymakers, who are trying to reduce the economy's dependence on trade and investment in favor of more self-sustaining domestic consumption.
Imports of iron ore, an important commodity used to make steel, surged 24 percent by volume, while copper imports grew 12 percent, both at the fastest rates in more than a year, said Yao Wei, China economist at Societe Generale.
She said the return to growth for exports was a sign of "some stabilization in external demand, at best — not yet a solid recovery" for the country's massive export industries.
Analysts said the figures were a sign of improvement but cautioned about reading too much into a single set of numbers.
"July seems to reflect a return to a normal, relatively uninspiring trend after a weak June, rather than the beginning of acceleration in growth," said Alistair Chan, an economist at Moody's Analytics. "While the worst seems to be over, the upturn will be relatively flat."
The trade report follows a survey last week that found manufacturing activity expanded unexpectedly in July.
The world's second-largest economy grew 7.5 percent in the three months ending in June, down from 7.7 percent in the previous quarter, as growth in factory production and investment slowed. Some analysts fear growth could slide below 7 percent in coming quarters.
Chinese leaders are facing pressure to steer the economy to a goal of 7.5 percent growth for the year, which is far stronger than forecasts for the United States, Europe and Japan, but would be the country's weakest performance since 1991.
Exports to the United States, China's biggest foreign market, edged up 2.3 percent, leaving a trade surplus of $19.1 billion. Exports to the 27-nation European Union shrank 2.8 percent, for a trade gap of $10 billion.
Exports contracted by 3.1 percent in June while imports shrank 0.7 percent.
General Administration of Customs of China (in Chinese): www.customs.gov.cn
---
More from MBTMag.com
China Spying On U.S. Businesses
N.Y. Firearms Maker Blames New Law For Move
Chinese Inaction Gives Technology Thieves A Shield
Explore more news
here
.