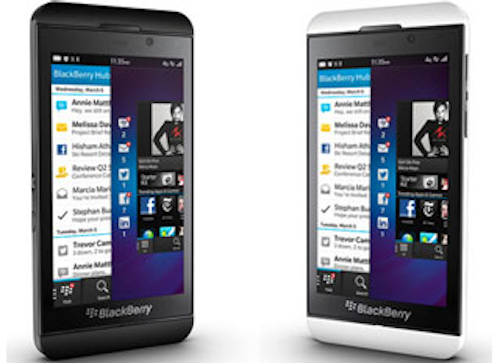 TORONTO (AP) — Struggling smartphone maker BlackBerry will consider selling itself.
The company said Monday that its board has formed a special committee to explore "strategic alternatives" in hopes of boosting the adoption of its BlackBerry 10 smartphone.
The company said its options could also include joint ventures, partnerships, or other moves.
BlackBerry Ltd. has been hammered by increased competition from its Apple and Android-based rivals. In January, BlackBerry unveiled new phones running a revamped operating system called BlackBerry 10 designed to better compete, but its market share continues to lag.
The Canadian company's shares had risen Friday on reports that it might be warming up to the idea of someone taking it private. The stock jumped 6.8 percent to $10.42 in premarket trading Monday.
BlackBerry also announced Monday that board member Prem Watsa, the company's largest investor, resigned from the board "due to potential conflicts that may arise during the process."
Watsa has said that he's a "big supporter" of current CEO Thorsten Heins, and he would be an obvious bidder for BlackBerry. He has said that he believes BlackBerry can turn itself around, but that it might take three to five years. He's the founder of insurance company Fairfax Financial Holdings Ltd. and is one of Canada's best-known investors.
The BlackBerry, pioneered in 1999, had been the dominant smartphone for on-the-go business people and other consumers before the iPhone debuted in 2007 and showed that phones can handle much more than email and phone calls.
The company faced numerous delays modernizing its operating system with the BlackBerry 10. During that time, it had to cut more than 5,000 jobs, and shareholder wealth declined by more than $70 billion.
BlackBerry said in its release that there can be no assurance that the exploration process will result in any transaction and declined further comment unless and until its board approves a specific sale or concludes a review of strategic alternatives.
JP Morgan Chase & Co. is serving as its financial adviser and Skadden, Arps, Slate, Meagher & Flom LLP and Torys LLP are legal advisers.
---
More from MBTMag.com
U.S. Wholesale Stockpiles Fall In June
Challenge For Wind Power Can Be Reaching Customers
Star Scientific: No Fed Charges Expected
Explore more news
here
.