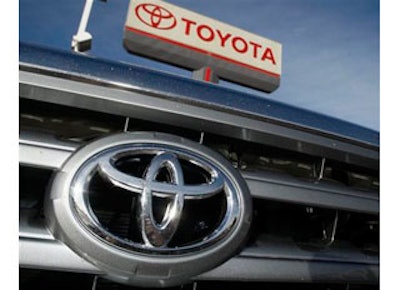 OKLAHOMA CITY (AP) -- An Oklahoma judge says a settlement to award punitive damages has been reached in a case that blamed sudden acceleration in a Toyota Camry for a wrongful death.
The jury found Toyota Motor Corp. liable Thursday for a fatal crash and awarded $1.5 million compensation to Jean Bookout, the driver injured in the crash, and $1.5 million to the family of Barbara Schwarz, who died.
The jury also decided that Toyota acted with "reckless disregard" for the rights of others.
Oklahoma County District Judge Patricia Parrish said Friday that jurors won't be deliberating additional punitive damages.
The judge didn't disclose the amount of punitive damages awarded, which is still being discussed in the courtroom. The judge has barred the parties from discussing the case publicly until the trial's conclusion.
---
More from MBTMag.com
Volvo: Cordless Electric Car Charging Possible
8 States Vow 3.3M Zero-Emission Vehicles By 2025
Growing Number Of Federal Regulations Continue To Challenge Manufacturers
Explore more news
here
.