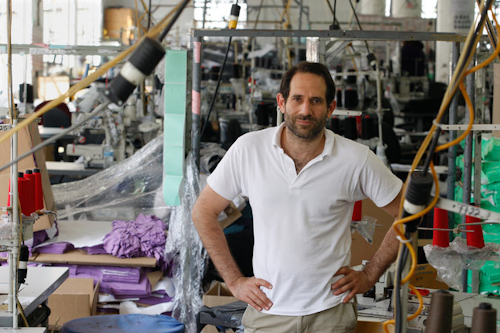 NEW YORK (AP) — Ousted American Apparel CEO Dov Charney has increased his stake in the clothing chain to nearly 43 percent as he fights to keep control of the company he founded.
In regulatory filings this week, Charney reports he now owns 74.6 million shares as of Friday. Previously, his stake was 27 percent.
Charney also sent a letter last week to the board seeking a meeting of stockholders on Sept. 25 for the purpose of expanding the board to 15 members, according to the filing. The company said in a regulatory filing late Monday that Charney's request is "invalid" and "improper" due to the fact that he was suspended as CEO and relieved of all powers to act on the behalf of the company.
As a result, American Apparel doesn't intend to call a meeting and "intends to vigorously contest any action seeking to compel the company to do so."
American Apparel on Saturday adopted a shareholder rights plan, commonly called a "poison pill," a day after a bid from Charney to increase his control. A poison pill seeks to prevent hostile takeovers by diluting the value of a would-be acquirer's investment.
The filing showed that he had entered into a five-year loan agreement with investment firm Standard General LP to increase his stake. According to the terms, Standard General is loaning Charney money to buy at least 10 percent of American Apparel's outstanding shares. The loan will use Charney's stock as collateral.
The Los Angeles-based retailer said early Saturday that the "poison pill" move, made by a special committee of its board of directors, is designed to limit the ability of any person or group, including Charney, "to seize control of the company without appropriately compensating all American Apparel stockholders."
On June, 18, the American Apparel's board fired Charney as chairman and suspended him as president and CEO. His contract requires a 30-day period before he can be terminated. The board cited "alleged misconduct."
---
More from MBTMag.com
Drones Face Significant Hurdles In U.S.
Pinnacle Foods Lets Hillshire Out Of Deal
Samsung: Audit Finds Labor Violations At Chinese Suppliers
Explore more news
here
.