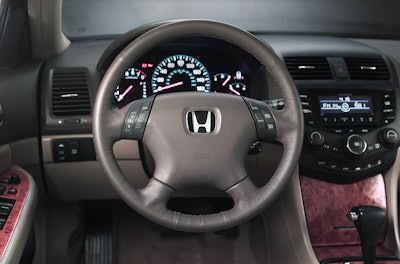 DETROIT (AP) — Honda is quietly offering to replace potentially defective air bag inflators across the U.S., even though its latest recall for the problem only covers cars in 13 high-humidity states and territories.
The replacement program for owners concerned about their safety was revealed in documents posted recently by U.S. safety regulators. But Honda doesn't plan to notify customers outside the recall areas.
Honda's action, plus a report of an exploding air bag that injured a Ford Mustang driver in North Carolina, is likely to give more ammunition to lawmakers who are calling for a nationwide recall of cars with air bags made by Japanese parts supplier Takata Corp. The air bags can inflate with too much force, blowing apart a metal canister and sending fragments into the passenger compartment.
Takata has blamed the problem on prolonged exposure to high humidity, which can cause the chemical air bag propellant to burn too fast. At least five deaths worldwide have been linked to the problem, which is under investigation by the U.S. National Highway Traffic Safety Administration and authorities in Japan.
Honda's most recent inflator recall, announced Nov. 6, covers passenger air bags in about 2.8 million vehicles in Alabama, Florida, Georgia, Hawaii, Louisiana, Mississippi, South Carolina, Texas, Puerto Rico, the U.S. Virgin Islands, Guam, Saipan and American Samoa. It's the largest of the recalls announced by 10 automakers for the same problem.
The recall covers Honda's most popular vehicles, including 2003 to 2005 Accords, 2001-2005 Civics, and 2002-2005 CR-Vs. In addition, Honda is notifying owners that it will replace air bags in California, even though it isn't part of the recall.
In the past year or so, 10 automakers have recalled nearly 8 million vehicles in the U.S. to fix problems with Takata air bags. More than 12 million have been recalled worldwide.
Honda will repair vehicles outside the recall area if customers ask. The company also will provide temporary transportation.
Honda's action doesn't mean the recall has been extended nationally, said Chris Martin, a company spokesman. The company, he said, wants to make sure limited parts go to high-humidity areas where the risk is higher. But he says Honda will try to help customers elsewhere.
Honda says it has confirmed that 46 people have been hurt by Takata air bags in its vehicles.
On Monday, the family of Hien Thi Tran, 51, who died after her 2001 Honda Accord crashed in Florida, sued Takata and Honda, claiming they concealed the air bag defect. Authorities confirmed that the air bag exploded and spewed metal, but no official ruling has been made on the cause death, the lawsuit said. Neither Honda nor Takata would comment.
In the Ford case, the owner of a 2007 Mustang complained to the government that the car rear-ended another vehicle at 35 mph, and the air bag spewed a metal fragment that injured the driver's leg. The crash happened on Aug. 17, and it could be the first recent case to happen outside the recall boundaries.
A Ford spokeswoman said the company is investigating. She did not know if all 2007 Mustangs have Takata air bags.
Democratic Sens. Richard Blumenthal and Edward Markey have written to NHTSA saying that the limited regional recalls could risk the safety of those not in states covered by the recalls.
____
Dee-Ann Durbin contributed from Detroit
---
More from MBTMag.com
Unilever Tweaks Site In 'Mayonnaise' Spat
GM Compensation Expert Extends Claims Deadline
Reynolds Launching Heat-Not-Burn Cigarette
Explore more news
here
.