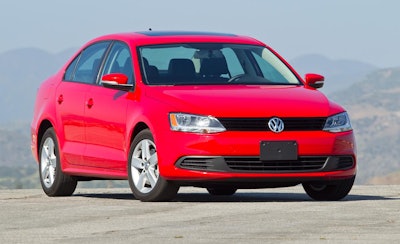 DETROIT (AP) — Volkswagen is recalling 442,000 Jettas and Beetles to fix a problem that can cause rear suspension failure if the cars aren't fixed properly after a crash.
The recall covers 2011 through 2013 Jettas and 2012 through 2013 Beetles.
VW says in documents posted by U.S. safety regulators on Wednesday that if rear trailing arms are damaged in a crash and not repaired correctly, they can fracture suddenly. That can cause loss of control and possibly a crash. Trailing arms connect the axle to the frame.
The company says there have been no crashes or injuries in the U.S., but there were reports of fractured trailing arms mainly in Asian countries.
Dealers will inspect trailing arms for damage and install sheet metal to help prevent a loss of vehicle control.
The sheet metal will be installed at no cost to customers, but customers will have to pay for repairs if their suspension was damaged, VW said.
Parts currently aren't available, but VW will notify customers to take their cars to dealers for a free inspection.
Customers can call VW at (800)893-5298.
---
More from MBTMag.com
Toyota To Start Sales Of Fuel Cell Car
Nokia Plots Comeback With A Tablet
Feds Say Web Privacy Firm Deceived Consumers
Explore more news
here
.