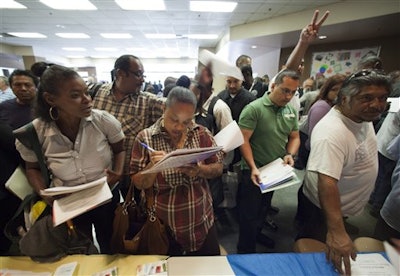 WASHINGTON (AP) — The number of people seeking unemployment benefits plunged last week to the lowest level in four years, a hopeful sign for the struggling job market. But the decline was partly due to temporary factors.
The Labor Department said Thursday that weekly applications dropped by 26,000 to a seasonally adjusted 350,000. It was the third straight decline and the lowest level since March 2008.
The four-week average, a less volatile measure, fell to 376,500.
Applications measure the pace of layoffs. When applications consistently fall below 375,000, it generally suggests hiring is strong enough to reduce the unemployment rate.
Still, Labor officials cautioned that seasonal factors affected last week's figures.
Automakers traditionally close their plants for the first two weeks in July to prepare them to build new car models and their employees file for unemployment benefits.
But this year automakers are limiting the shutdowns, hoping to boost production. That has resulted in fewer temporary layoffs than is normally the case in early July.
Hiring has slowed sharply this spring. Employers added only 80,000 jobs in June, the third straight month of weak hiring. The unemployment rate was stuck at 8.2 percent.
Job gains have averaged only 75,000 per month for in the April-June quarter. That's roughly a third of the 226,000 average monthly gains in the first quarter.
Employers advertised more job openings in May after a sharp drop in April, according to a government report released Tuesday. That suggests the job market is stabilizing.
Still, more jobs are needed to lower painfully high unemployment and boost pay for those who are working. Wages have barely kept up with inflation over the past year, which has led consumers to pull back on spending.
Consumer spending is critical because it drives roughly 70 percent of growth. But the economy isn't growing quickly enough to encourage more hiring. The economy grew at an annual rate of just 1.9 percent in the first three months of the year.
Most economists don't expect growth picked up in the April-June quarter. And some predict that it weakened.
The Federal Reserve downgraded its outlook for the economy this year. It now expects growth of just 1.9 percent to 2.4 percent for 2012. That's half a percentage point lower than the range it estimated in April. The Fed also says the unemployment rate won't fall much further this year than it has already.