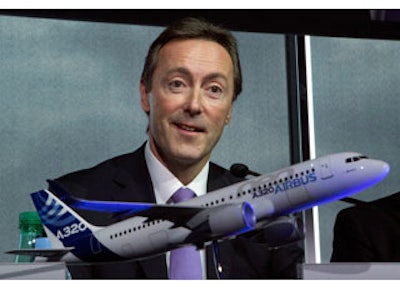 BLAGNAC, France (AP) — Airbus refused to be drawn into the problems afflicting Boeing Co.'s Dreamliner plane as it reported a record number of deliveries for last year.
Speaking to reporters at the company's annual commercial results presentation Thursday, Airbus Chief Executive Fabrice Bregier says it wasn't his place to "give Boeing lessons" and noted that the European aircraft maker has had problems of its own "in the past."
Airbus said it plans to increase production again this year to deliver more than 600 aircraft from 2012's 588, while taking in new orders for at least 700 jets. In 2012, it took in orders for 914 new jets, above expectations.
Boeing's 787 Dreamliners have been grounded by aviation organizations around the world, including the U.S. Federal Aviation Authority and the European Aviation Safety Authority, following concerns about the safety of the airplane's lithium ion battery system.
"It's not our place to give Boeing lessons, we've had our own problems in the past, Bregier said. "About the batteries, the certification agencies seemed very happy with the architecture of our aircraft. If the FAA issues a directive, we will look very carefully to see if it applies to the A350."
"I honestly wish all the best to my colleagues at Boeing to put this aircraft back in flight," he added. "I don't bet on the difficulties of a competitor in order to build Airbus' success."
Airbus expects its new A350 wide-body jet, a rival to Boeing's 787, to make its first flight around the middle of the year. Pressed on whether the inaugural flight could come during the Paris air show in June, Bregier joked that he had "too much respect" for air show organizers to divert attention to Toulouse, where the flight will take place, from the biannual gathering at Bourget airport outside Paris.
"It will be either just before or just after the air show," Bregier promised.
Airbus only sold nine of its superjumbo A380 jets last year, due to a combination of technical problems with the aircraft's wing ribs and the poor European economy. But chief salesman John Leahy pledged he'd get at least 25 orders for the massive jet this year. Airbus delivered 30 of the A380s last year.
Declaring that the problem with the wing ribs was " now behind us," CEO Bregier said the cause of the problem had been found a solution was being put in place for the nine airlines currently flying the giant aircraft.
Airbus said it will deliver 25 of the A380 this year.