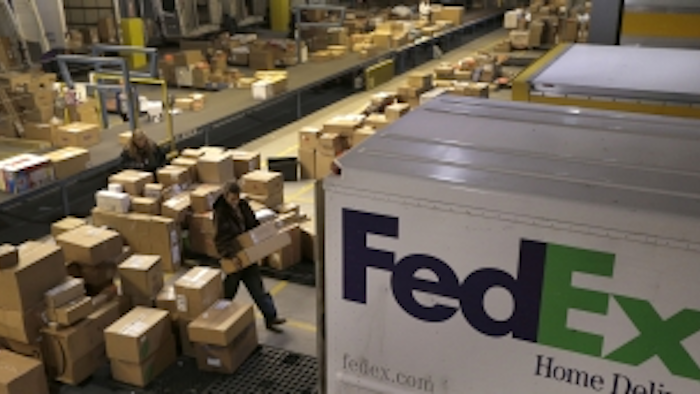 NEW YORK (AP) — FedEx may be pessimistic about the U.S. economy, but it's confident about growing its earnings.
The world's second-largest package delivery company, a bellwether for economic health because of the vast number and kinds of shipments it handles, lowered its economic forecast for the U.S., saying there remains a lot of uncertainty for the country.
FedEx maintained its earnings forecast for the full fiscal year ending in May, counting on a massive cost reduction plan and a slightly more optimistic view of growth overseas. Shares rose 84 cents to close at $93.20 Wednesday, even though its forecast for the current quarter, which includes the critical holiday season, falls short of Wall Street expectations.
FedEx Corp. posted earnings of $438 million, or $1.39 per share for the quarter that ended in November, compared with $497 million, or $1.57 per share, a year ago. Superstorm Sandy shaved 11 cents per share off of earnings in this year's quarter, as shipping volumes fell and costs rose.
Revenue rose to $11.1 billion from $10.6 billion a year ago, as the company scaled back its operation to better match demand and some of its raised rates.
Wall Street expected $1.41 per share in the recent quarter on revenue of $10.84 billion, according to FactSet.
Growth in the company's freight and ground operations boosted results, but FedEx reported "persistent weakness" in its core express network. Operating income in that segment fell 33 percent. FedEx and its larger rival UPS Inc. have seen consumers and businesses opt for slower shipping options to cut costs. As a result, FedEx is offering buyouts and shedding aircraft and other assets to reduce its costs and adjust to the new normal.
Earlier this month FedEx said it will offer some employees up to two years pay to leave, starting next year. The voluntary program is part of an effort to cut annual costs by $1.7 billion within three years.
FedEx said on Wednesday that it expects earnings of $1.25 to $1.45 per share in the third quarter. Analysts predicted per-share earnings of $1.45.
The company, based in Memphis, Tenn., also estimated $6.20 and $6.60 per share for the year ending in May, excluding charges from the company's buyout plan. Wall Street is looking for $6.34 per share.