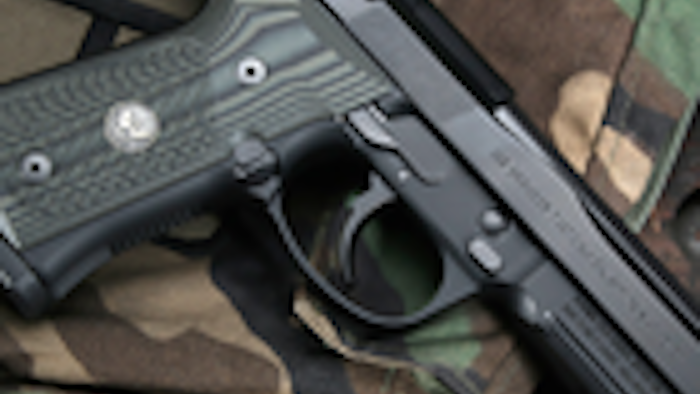 Custom gun-maker Wilson Combat is teaming up with Beretta USA to produce an upgraded version of an iconic military handgun.
The Beretta/Wilson 92G Brigadier Tactical is a 9mm, semi-automatic pistol built at Beretta's plant in Maryland and goes to the buyer fitted with custom parts made by Wilson Combat of Berryville. The pistols are being built in a limited run, perhaps up to 2,000 in total.
Some features of the 92G Brigadier include an enhanced slide, a modified checkered frame with an accessory rail and a rounded trigger guard. The pistol comes with a match grade stainless steel barrel, along with a Wilson Combat rear sight and a Trijicon dovetail, tritium front sight.
This collaboration with a major gun manufacturer is a first for Wilson Combat. Company founder Bill Wilson is a longtime Beretta aficionado who has collected Beretta handguns for many years.
Wilson Combat began offering custom parts and gunsmith work for Beretta's Model 92 and Model 96 pistols about eight months ago. Bill Wilson then pitched the idea of a gun made by Beretta but including key Wilson components. Beretta agreed and about six months later the new pistols were in production.
"We skipped a few layers of bureaucracy," Bill Wilson told the Arkansas Democrat-Gazette (http://bit.ly/1zLN44E).
Rafe Bennett, vice president of product marketing at Beretta, said the speed in which the project went from concept to reality was extraordinary and primarily due to Wilson's gravitas in the gun industry.
"Because of who Bill Wilson is, it worked out," Bennett said.
The firearms will be sold exclusively through Wilson Combat and the company's select dealers. The pistols are marked with serial numbers that start with WC and will include Wilson logos on the pistol's grips and slide. It retails for a suggested price just shy of $1,200.
Sales have been brisk.
"They took off like we didn't expect," Bill Wilson said.
Gun sales at some of the nation's largest firearms manufacturers surged in 2013 after calls for more regulations after several mass shootings resulted in panic buying and nationwide shortages. Since then, demand has cooled somewhat as the market normalizes.
In early December, publicly traded Smith & Wesson Holding Company reported second-quarter sales for its fiscal year 2015 were $108.4 million, down 22 percent from $139.3 million from a year ago. Smith & Wesson reported handgun sales were down 15 percent for the quarter compared to a year earlier, a smaller decline than other segments, on continued strong sales of concealed-carry pistols and revolvers. In its 2013 annual report, Smith and Wesson said handgun sales were up 36 percent from $238.4 million the year earlier.
According to the Firearms and Ammunition Industry Economic Impact Report 2013 by the National Shooting Sports Foundation -- the trade association for the firearms industry -- there were 2,398 jobs directly attributed to all firearm-related industries in Arkansas. Those jobs had total wages of $150.8 million. Nationally, the firearms industry directly accounted for 111,900 jobs in 2013, up from 75,600 in 2008, with total wages of $4.5 billion for 2013, up from $2.4 billion in 2008.
Wilson Combat sells custom model 1911 pistols, AR-15-style rifles, tactical shotguns, ammunition, magazines, custom gun parts, holsters, and other shooting gear. The privately held company, formed in 1977, is headquartered in Berryville in Carroll County and employs about 125 people, including 50 gunsmiths.
The company is in the process of expanding at its Berryville location. It added a new warehouse that opened in November and is constructing a building that will house the company's shotgun and rifle build areas and a work area to apply various finishes to its products.
Italian gun-maker Beretta was established in 1526 with 16 generations of continuous family ownership, according to the company. Beretta USA Corp. was founded in 1977. Next year is the 30th anniversary for Beretta's M9 pistol, which took the place of the 1911 platform with the U.S. military in 1984.
To date, Beretta has sold more than 600,000 M9 pistols to the nation's armed forces. The civilian model Beretta 92 pistol has sales of over 2 million in the U.S. All told, Beretta has sold 4 million of the pistols worldwide in all variants, including the M9, M9A1, and the 92 models.
The U.S. Army has said it will seek a new contract for sidearms in January. Beretta said it will try for the Army's business, as have Smith & Wesson and General Dynamics.
Doug Wicklund, senior curator of the National Rifle Association National Firearms Museum in Fairfax, Virginia, said the Model 92 is an extremely popular handgun. He said soldiers, police and private citizens worldwide like the pistol and its variants for its durability and reliability.
He noted when the U.S. military was testing the Beretta as a possible replacement for its aging .45 caliber Colt M1911A1 in the early 1980s, Beretta competed toe-to-toe with some of the world's best handgun makers including Colt, Smith & Wesson and Sig Sauer. That testing included stress tests like freezing the pistol, submerging it in water and burying it in mud and sand.
He said the collaboration between Beretta and Wilson on the 92G Brigadier brought together a major manufacturer with a time-tested product with a respected custom gun-maker with a reputation for high quality and innovation.
"It's a match made in heaven," Wicklund said.
Guy Joubert is in charge of new product development at Wilson Combat. He said the 92G Brigadier also is attractive to competitive shooters because it comes out of the box approved for the production category of the International Defensive Pistol Association. Bill Wilson helped form the association, also based in Berryville, which has more than 20,000 members worldwide.
"It's brought a lot of excitement to the market," Joubert said.
Jared Phillips, 29, is "the Beretta guy" at Wilson Combat. He's a second-generation gunsmith with nearly 10 years of experience working on the 1911 platform. He said he jumped at the chance to do custom Beretta work for the company. He's been busy ever since.
Phillips said he likes the 92G Brigadier because it's simple -- all metal and robust -- but most of all because it's accurate and easy to shoot.
He said he shot his first Beretta when he was 14 years old at a series of steel plates. He squeezed off 15 rounds. The plates pinged 15 times.