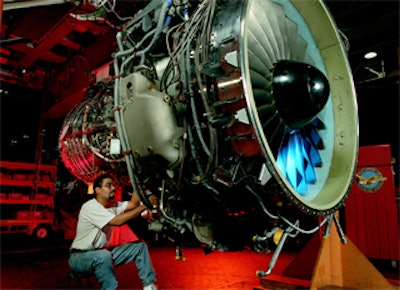 EAST HARTFORD, Conn. (AP) — About 575 U.S. salaried workers are retiring as part of Pratt & Whitney's voluntary separation program, the jet engine manufacturer said Monday.
Most of the employees left the company on Monday and more departures will be necessary as the subsidiary of United Technologies Corp. grapples with the winding down of military operations in Afghanistan and what a spokesman called uncertainty in the commercial jet engine spare parts business.
It's the third round of job cuts in seven months. The East Hartford company announced a reduction of 350 salaried workers in January and laid off 80 hourly employees and eliminated 20 other positions in buyouts in December.
Sikorsky Aircraft, United Technologies' helicopter division, announced in June 200 layoffs due to military spending cuts and the bumpy economic recovery.
United Technologies Chief Executive Officer Louis Chenevert told investor analysts in May that airlines have maintained their fleets well and have reduced the number of spare parts that they hold. It's creating "some of the near-term stress," he said.
In June, Chenevert told investor analysts that declining Pentagon spending is "putting some pressure" on defense programs.
United Technologies has told federal regulators it expects net workforce reductions of about 7,000 hourly and salaried employees. The Hartford conglomerate said it reduced its workforce by about 4,000 employees last year and intends to complete most of the remaining 3,000 job cuts this year.
United Technologies' payroll was 218,000 as of Dec. 31, 2012.