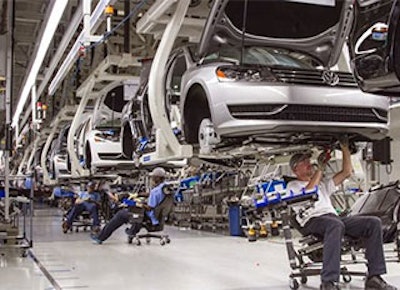 DETROIT (AP) — The United Auto Workers union confirmed Friday that it's in talks with Volkswagen about representing workers a factory in Chattanooga, Tenn.
The union said its representatives met with VW officials last week in Wolfsburg, Germany, to discuss a German-style "works council" at the plant as well as full UAW representation. A works council would give workers a say in plant operations.
Currently no U.S. plants owned by foreign automakers have UAW representation. But the union has been trying for years to organize the plants, which mainly are in southern states.
The prospect of UAW representation in Chattanooga concerns Southern Republicans, who fear a UAW foothold in the region will allow it to recruit workers at other auto plants.
Volkswagen managers told workers about the talks in a letter on Thursday. Any union representation would require a vote of the plant's roughly 2,000 full-time blue-collar workers who make the VW Passat midsize sedan.
Jonathan Browning, Volkswagen's Americas CEO, said Wednesday that labor questions will be left to plant workers. "It may or may not result in third-party representation," he said.
In its statement, the UAW said VW has experience with union representation. "The UAW believes the role of a union in the 21st Century is to create an environment where both the company and workers succeed," the statement said.
UAW spokeswoman Michele Martin said she couldn't comment on how successful the union has been at signing up VW workers or whether it could reach a deal for a works council but not full union representation.
Tennessee Gov. Bill Haslam and U.S. Sen. Bob Corker, both Republicans, have argued that inroads by the union would hurt the state's ability to lure other large manufacturers to the state.