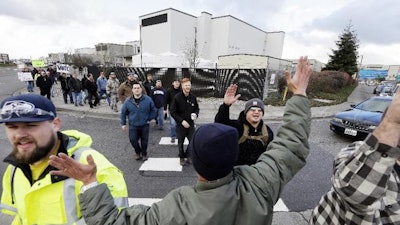 SEATTLE (AP) — Some machinists in the Puget Sound region would likely see their annual base salaries top $100,000 in the coming years under a proposed contract offer from Boeing Co., according to an Associated Press analysis of the deal.
A group of top-level union workers at Boeing already earn more than $90,000 in base pay annually, not counting shift differentials, overtime or incentive payments, according to union wage tables. While the contract offer going to a vote Friday would slow the growth of machinists' wages starting in 2016, workers would still get regular cost-of-living adjustments, plus an extra 1 percent pay increase every other year.
Over the past decade, machinists received an average cost-of-living increase of about $600 per year, with the amount calculated based on federal government data. If that continues in the future, the base pay for about 400 machinists in Washington state, such as optical instrumentation technicians, would surpass six figures in 2020. More would exceed the $100,000 mark in 2023.
By 2020, the top annual pay for the most common class of machinists, which includes mechanics and electricians, would reach about $82,000, up from about $73,000 today. Overtime pay is also common.
Salaries among machinists can vary widely, with 11 different pay grades depending on job categories. New hires can also make a lot less than their peers, but they typically jump to the maximum salary for their class within six years. Boeing had sought to slow how fast workers climb the pay scale in an initial contract proposal but have backed away from that effort in the company's latest offer.
The lowest-level machinists that work on planes — a Grade 1 — currently start at $25,000 a year and reach about $66,000 per year if they have six years of experience. That maximum pay rate would be about $75,000 per year in 2020.
In Everett, where much of Boeing's production in the region takes place, the median household income is about $47,000.
National leaders at the International Association of Machinists and Aerospace Workers recently announced a vote on Boeing's proposal despite the objections of local union leaders who had rejected the offer.
The local leaders are recommending that members vote "no," despite Boeing's threat that work on its new 777X airplane will go elsewhere if workers don't take the deal. The union leaders believe the contract includes too many concessions, such as a plan to move workers away from traditional pension plans.
The local leaders have also expressed concern about slower growth of wages. In their current contract, machinists have earned 2 percent raises every year, on top of cost-of-living adjustments, through the national economic downturn. The local leaders see the company's proposal to slow that growth as a concession, saying in one message that they are being asked to go "four years without a raise" — meaning that in four years of the contract they won't get raises besides their cost-of-living adjustments.
Bryan Corliss, a spokesman for the local Machinists District 751, said the slower pay growth coupled with higher health care costs and a shift away from defined-benefit pensions creates a "serious" problem. He also noted that entry-level pay would remain stagnant, while the state's minimum wage continues to grow, so some new hires in the coming years would likely start at minimum wage.
"You're going to be paying people to build airplanes the same price Wal-Mart pays its greeters," Corliss said.
Corliss acknowledged that machinists have typically had strong pay compared to other workers in the region. He said one-quarter of Boeing's flight-line mechanics in Everett are college graduates who later realized they could make more money as a machinist, and the attractive pay and benefits allow Boeing to choose from a large talent pool.
"They're getting to pick and choose from some of the best people our region has to offer," Corliss said. He warned that could change if the compensation is no longer attractive to college graduates.
Some machinists have also griped about the gap between their pay and that of CEO Jim McNerney. In the most recent figures available, his compensation rose 15 percent in 2012 to $21.1 million.
Boeing spokesman Doug Alder said employees will continue to receive market-leading wages and benefits — compensation that Alder deemed "the best in our industry."
Boeing said Thursday an approved contract this week would ensure that the 777X will be built in the Puget Sound area, including the fuselage, wing fabrication and final assembly. The 777X is a new iteration of Boeing's strong-selling 777, and the Chicago-based company recently received orders for 225 new 777X planes from three airlines at the Dubai Airshow.
Local politicians in areas with a heavy Boeing presence have said that the company told them the work on the new 777X wing will not happen in the Puget Sound region if Machinists reject the contract offer. Gov. Jay Inslee and lawmakers had worked swiftly last year to approve a set of tax breaks that would keep the work in the region and are pleading for members to take the deal.
After the Machinists rejected an initial contract offer in November, Boeing sought bids from other states that want the 777X work, and 22 states are now vying for those jobs.
Production on the 777X would likely mean thousands of jobs for whatever region gets the work, and political leaders in Washington fear a steady decline in the state's robust aerospace industry if that production goes elsewhere.