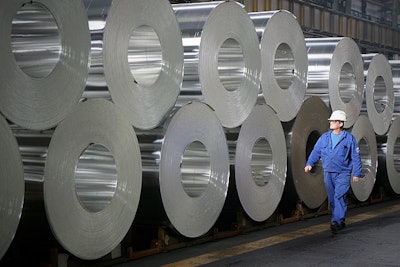 NEW YORK (AP) -- Alcoa Inc. said Tuesday that it has completed a $300 million expansion at a plant that makes aluminum sheet products for the auto industry.
The expansion of the plant in Davenport, Iowa, reflects four years of strong vehicle sales increases — U.S. auto sales rose 8 percent to 15.6 million in 2013 — and growing use of lightweight aluminum for better fuel mileage in some models.
Alcoa executives announced the completion of the Davenport project during the North American International Auto Show in Detroit. The company said that auto makers expect demand for aluminum in vehicles to nearly double by 2025, with even larger increases in aluminum body sheet content in North American vehicles.
To take advantage of that demand, Alcoa is adding capacity for auto-related aluminum production in Alcoa, Tenn., by mid-2015 and at a joint venture rolling mill in Saudi Arabia by the end of 2014.
The company has struggled with low aluminum prices for several years and is shifting more of its business from mining and smelting metal to making aluminum products for autos, aerospace, construction and other industries.
Shares of Alcoa rose 22 cents, or 2.2 percent, to close at $10.32. They have gained 16 percent in the past 12 months.