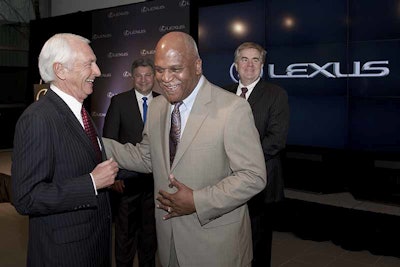 Georgetown, Ky. (Manufacturing.net) — Toyota Motor Manufacturing, Kentucky, Inc. (TMMK) recently announced that construction is underway at the assembly line that will produce the first U.S.-made Lexus.
Last April, TMMK announced it would localize production of the ES 350, which has never been assembled outside of Japan, saying that the plan fits with a company-wide initiative to produce vehicles in the region they are bought and used. Because the ES 350 sold nearly 30 percent better in 2013 than it had in 2012, the company thought it could better serve customers with local production.
The Georgetown plant currently employs approximately 6,600 full-time people to make the Camry, Camry Hybrid, Avalon, Avalon Hybrid and Venza models, as well as four-cylinder and V-6 engines.
With the new assembly line, Toyota will create 750 new jobs with a $360 million investment. Production is set to begin in the fall of 2015, with plans to assembly 50,000 units annually.
Wil James, president of Toyota's Kentucky plant, said in statement: "Today's milestone is symbolic of the bright future that lies ahead of us. We're proud of our long history of building world-class vehicles in the Bluegrass, and look forward to raising the bar once again by adding Lexus to our lineup of Kentucky-made products."