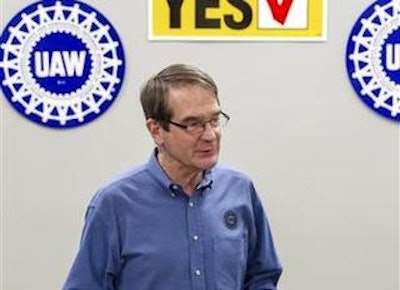 CHATTANOOGA, Tennessee (AP) -- Republicans fighting a unionization effort at the Volkswagen plant in Tennessee painted a grim picture before last week's vote. They said if Chattanooga employees joined the United Auto Workers, jobs would go elsewhere and incentives for the company would disappear.
Now that workers have rejected the UAW in a close vote, Republicans are feeling pressure to fulfill its promises that keeping the union out means more jobs will come rolling in.
The Volkswagen vote has established a playbook for denying the UAW its goal of expanding into foreign-owned plants in the region. The UAW was defeated in a 712-626 vote Friday night.
On the first of three days of voting at the Chattanooga plant, U.S. Sen. Bob Corker, citing unnamed Volkswagen officials, all but guaranteed that the German automaker would announce within two weeks of a union rejection that it would build a new midsized sport utility vehicle at its only U.S. factory instead of sending the work to Mexico.
"What they wanted me to know, unsolicited, that if the vote goes negative, they're going to announce immediately that they're going to build a second line," Corker told The Associated Press.
The company reiterated its longstanding position that the union vote would not factor into the decision. Corker also acknowledged that he had no information on whether the company would also expand if the union won.
But the implication was clear, union leaders said. His senator's statements — along with threats from state lawmakers to torpedo state incentives if the UAW won — played a key role in the vote.
UAW President Bob King called it unprecedented for Corker and other elected officials to have "threatened the company with no incentives, threatened workers with a loss of product."
"It's outrageous," King said.
Corker, who had originally announced he would refrain from making comments during the election, changed course last week after he said the union tried to use his silence to chastise other critics.
"I have no idea what effect we may or may not have had," Corker said. "But I think I would have forever felt tremendous remorse if ... I had not re-engaged and made sure that people understand other arguments."
Corker's claim that a no vote would quickly mean more jobs actually fit in with an assertion Tennessee Gov. Bill Haslam leveled days earlier, when he said a union win would hurt the state's ability to attract auto parts suppliers and other future business.
Corker said the day after the vote that he and other state officials planned to restart discussions with Volkswagen officials this week about state subsidies for expanded production in Chattanooga.
Many viewed VW as the union's best chance to win in the South because other automakers have not been as welcoming to organized labor as Volkswagen.
Labor interests make up half of the supervisory board at VW in Germany, and they questioned why the Chattanooga plant is the company's only major factory worldwide without formal worker representation.
VW wanted a German-style "works council" in Chattanooga to give employees, blue collar and salaried workers, a say over working conditions. But the company said U.S. law won't allow it without an independent union.
Several workers who cast votes against the union said they still support the idea of a works council — they just don't want to have to work through the UAW.
Frank Fischer, the CEO and chairman of the Volkswagen plant in Chattanooga, said the vote Friday wasn't a rejection of a works council. He said the goal remains to determine the best method for establishing a works council that serves employees' interest and Volkswagen America's production in accordance with U.S. law.
Fischer did not address what the vote means for potential expansion at the plant other than to say "our commitment to Tennessee is a long-term investment."
The German automaker's CEO, Martin Winterkorn, announced at the Detroit auto show last month that the seven-passenger SUV will go on sale in the U.S. in 2016. Winterkorn said the new model will be part of a five-year, $7 billion investment in North America.
Winterkorn said Volkswagen is committed to its goal of selling 1 million vehicles per year in the U.S. by 2018. The company sold just over half that many in 2013.
Krisher reported from Detroit.