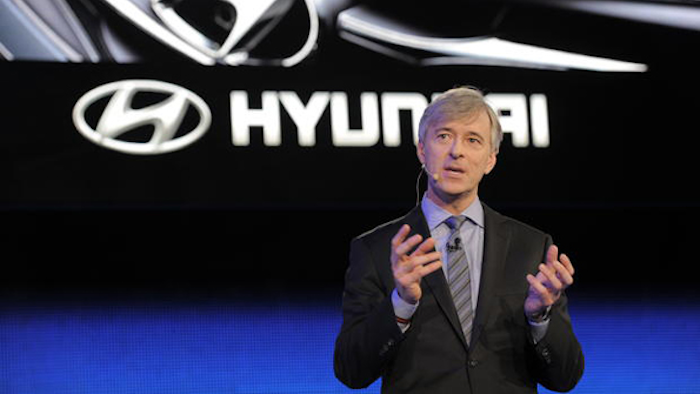 DETROIT - Dave Zuchowski, the new CEO of Hyundai Motor America, says his mission is simple: recapture lost U.S. market share.
Under his predecessor, John Krafcik, Hyundai posted huge sales gains and captured 5.1 percent of the U.S. market in 2011. Then the company's factories couldn't keep up with demand and sales growth slowed. Market share slipped last year to 4.6 percent.
Krafcik abruptly resigned in December.
Zuchowski also inherits a legal issue. Last year, the U.S. Environmental Protection Agency revealed that Hyundai and sister company Kia had overstated gas mileage estimates on many of their vehicles. It faces lawsuits and an investigation by the EPA and Justice Department over the misstatements.
Zuchowski says Hyundai's growth a few years ago probably was a little distorted, boosted in part by a 2011 earthquake and tsunami that damaged Honda and Toyota plants in Japan and reduced availability of their cars. The market share fell when the Japanese automakers recovered. Also, he said, Hyundai plants in Georgia and Alabama are operating at capacity and haven't been able to crank out enough Santa Fe SUVs and Sonata and Elantra cars to meet demand, costing Hyundai market share.
Zuchowski talked to The Associated Press at the North American International Auto Show in Detroit. Here are his answers to three questions, edited for length and clarity.
Q: Do you see sales in the U.S. turning around?
ZUCHOWSKI: I see that as my No. 1 responsibility. We just completed a record year, a fourth-consecutive year of record sales. But we lost market share. It was disappointing but not surprising. As the industry recovers and grows, it's not necessarily good news to us because our production capacity has been relatively constrained on a global basis. The share performance was a function of a couple things. No. 1 is capacity. No. 2 is an aging product lineup. We had a slow launch cadence last year.
Q: Do you think you can keep up with U.S. market growth this year and in the future?
ZUCHOWSKI: My biggest responsibility taking over here is to show that 2011 and 2012 weren't a fluke for Hyundai, that 2013 was an anomaly, and that we can go back to sustained growth. You're not talking 15 or 20 per cent a year, you're talking 3 or 4 per cent with consistent market share increases that put us on a flight path for long-term growth. Our forecast for this year is 15.9 million total U.S. sales. We ended up with 721,000 sales last year. Our objective this year is about 745,000, so our growth would be a little better than the industry. Our market share would be up to 4.7 per cent from 4.6. We want to get back to that 5 per cent level. We have no immediate plans for additional (factory) capacity, but we do have continuing plans for increased operating efficiency out of our plants in the U.S. We can build more Elantras (compact cars), we can build more Sonatas, (midsize cars) because they're smaller and simpler vehicles.
Q: Is the EPA investigation impacting sales and are you worried about it taking so long?
ZUCHOWSKI: I won't comment specifically on the EPA, but I will say in terms of the impact on sales, we took the high road and we acted on behalf of the consumer. We provided compensation plans that not only provide regular compensation, but also lifetime compensation as long as they own the car. If you ask our retailers what impact it is having on sales, they will tell you they don't hear much about it. I think our customers are happy about the way we responded.