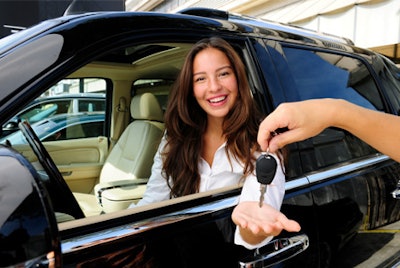 DETROIT (AP) — Women now buy nearly half the new cars in the U.S., a sharp increase compared with a generation ago, and the auto industry is trying to demonstrate that it's keeping up with the times when it showcases the latest models to the public.
Auto shows now offer cooking demonstrations, private tours and an increasing number of male models to appeal to female visitors.
But that hardly means the industry has shelved a staple of nearly 100 years of auto shows: having female models preening beside the latest sports car or SUV.
The shows, which are run by dealers, say they're trying to attract more women with events like fashion shows. The North American International Auto Show in Detroit doesn't keep track of visitors by gender, but the New York International Auto Show says 40 percent of its 1 million visitors in 2013 were women, up from 29 percent two years before. Spokesman Chris Sams said the show made a point of reaching out to women, using more females in its ads and hosting special parties and tours. It even held a contest to find the best place to store a purse in a car.
But contrast that with the scene at media previews for this year's Detroit auto show, which opens to the public Saturday. General Motors' CEO Mary Barra, who just this week became the first female head of a major automaker, walked the floor in a conservative black suit past Corvette models in skimpy dresses and leather jackets. Young women in towering heels handed out breath mints around the corner from plunging necklines at Infiniti.
"Face it. Automotive is a men's industry and it's always a novelty to be among the women who are there," said Brandy Schaffels, the editor of AskPatty.com, an automotive site for women.
But as females gain more income and buying power — not to mention corner offices — automakers may have to rethink using the short skirt to grab attention.
Some automakers have already done away with models altogether. At Honda's stand in Detroit, the focus was on the brand's new Fit subcompact and a futuristic fuel-cell car called the FCEV. The company says it tries to appeal to the broadest range of customers at its show stands.
Across the way, Ford set up a sample assembly line in its exhibit, which is staffed by both men and women. Ford's Chief Operating Officer, Mark Fields, said women and younger buyers, in particular, come to auto shows to get educated.
Fields said Ford no longer uses scantily-clad female models like it did 15 years ago. The company's data shows that women buy 41 to 42 percent of new cars each year, up from 20 percent in 1980. Among buyers 30 and younger, women account for 56 percent of new car purchases.
"That's how we make sure auto shows stay relevant," Fields said.
But there are still plenty of theatrics at the Detroit show, which is expecting more than 800,000 visitors this week. Over at Dodge, models in tight white dresses and shiny go-go boots strike poses in front of an orange Challenger muscle car.
Bo Puffer, who hires the models that the Chrysler Group uses at its 71 U.S. auto shows, is unapologetic.
"A good-looking person next to a good-looking car is a formula that's going to work for us no matter what brand it is," Puffer said.
Puffer matches models to each brand. For example, Fiat places younger presenters, near its cars because it's trying to attract younger buyers. The Ram pickup has male presenters. Eighty percent of Puffer's hires are female, he says, but that's partly because more women try out for the jobs. Those who are hired spend a week learning about the brand so they can answer visitors' questions.
Mercedes-Benz calls the presenters "product specialists," not models, says Donna Boland, manager of U.S. corporate communications. Boland said the company hires all kinds of people, including a pregnant woman who is working at the Smart exhibit this year.
"We don't pander to the lowest common denominator," Boland said. "We want everybody to be able to see themselves as a Mercedes owner."
Teckla Rhoads, GM's director of global industrial design, has male and female models wearing yellow T-shirts and Converse sneakers near the youthful Chevrolet Spark, but puts women in sexier dresses next to the Corvette.
"It's not gratuitous. It's to help reinforce what that vehicle is," she said. "That's not to say that a 6-foot tall woman in a tight dress isn't going to be really attention-getting. We get that. But there's also a spirit of fun about it."
___
Associated Press Writer Jeff Karoub and videographers Theresa Crawford and John Mone contributed.