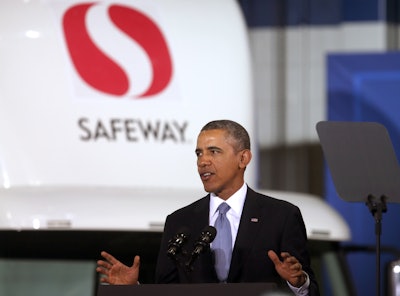 UPPER MARLBORO, Md. (AP) -- President Barack Obama is ordering a new round of fuel efficiency standards for medium- and heavy-duty vehicles by March of 2016. He is highlighting improvements already undertaken by companies such as Safeway to cut back on gasoline costs for their fleet of trucks.
Obama also said companies that want to join an existing public-private partnership focused on energy-efficient vehicles will get specialized resources and the technical expertise from the Department of Energy.
Flanked by two trucks at a Washington-area distribution center for Safeway grocery stores on Tuesday, Obama said that fuel savings by truck fleets would result in savings to consumers.
The attention to fuel efficiency, Obama said, has resulted in lower costs, improved air quality and created jobs in the auto industry.