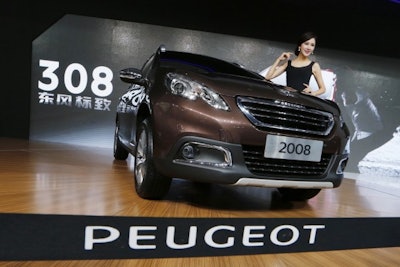 BEIJING (AP) -- Loss-making French carmaker PSA Peugeot Citroen is getting a 3 billion euro lifeline backed by Chinese investors and the French government in a deal that will see the company's founding family hand over control after more than two centuries at the helm.
Chinese automaker Dongfeng and the French government are each investing 800 million euros ($1.1 billion) in Peugeot, throwing a financial lifeline to the struggling French auto brand and possibly expanding its global presence.
Plans call for Dongfeng Motor Co., the French government and the Peugeot family each to own equal shares in PSA Peugeot Citroen and to have equal voting rights, Dongfeng said in a statement Wednesday.
The deal reflects an increasingly popular strategy among Chinese companies, which are buying stakes in established foreign brands to improve their competitive edge in their fast-growing home market.
China's auto market is the world's biggest by number of vehicles sold but is crowded and competitive, with every global brand and two dozen indigenous automakers jostling for sales.
Dongfeng said the French government is expected to buy the same number of shares as it on the same terms.
The Dongfeng and French government investments plus money raised from existing shareholders would inject 3 billion euros ($4.1 billion) into Peugeot. The Chinese company said shareholders also will receive entitlements to buy three new shares for each 10 they own, which might bring in more cash.
Dongfeng said it and Peugeot will expand cooperation in technology, research and development, manufacturing and overseas distribution. It said the two sides will sign a formal agreement in March and continue work on their strategic partnership.
Wednesday's brief announcement gave no additional details, including about how the owners will manage a potentially unwieldy structure with ties to both the French and Chinese governments.
While it is clear Peugeot gains much-needed capital, "from the Dongfeng side, the objective still is a little bit vague," said industry analyst Yale Zhang of AutoForesight in Shanghai. "We don't know if there are clear terms about transfer of technology for platforms or power trains. They still need to clarify their objectives."
Peugeot is France's biggest automaker and Europe's second-biggest after Volkswagen AG but has little presence in the United States or East Asia. It has developed models for China, including its 408 sedan, and has a joint venture with Dongfeng, but barely ranks among the country's top 10 brands in sales.
Peugeot also released its latest earnings Wednesday. It posted a net loss of about 2.3 billion euros in 2013, following a record 5 billion euro loss in 2012.
Earnings were hammered by hundreds of millions of euros in new restructuring costs and impairment charges to account for the diminishing value of Peugeot Citroen's assets.
The automotive division posted a 4.8 percent drop in revenue to 36.5 billion euros, as the sales of new Peugeot and Citroen badged cars and light trucks slumped nearly 5 percent to just over 2.8 million.
Peugeot says it expects the European auto market to expand about 2 percent this year and about 10 percent in China.
Sales by the Dongfeng Peugeot Citroen joint venture rose 25 percent last year to 554,000 vehicles, for a 3.5 percent share of the market, according to LMC Automotive Ltd., a research firm. By comparison, VW and its main Chinese partner had a 9.9 percent market share last year and GM and its main partner had 9.8 percent.
Peugeot, founded in 1810, manufactured its first gasoline-powered automobile in 1890.
Dongfeng, founded in 1969 and headquartered in the central Chinese city of Wuhan, is one of China's biggest auto producers but is largely unknown abroad. In addition to its joint venture with Peugeot, it assembles vehicles for Japan's Nissan Motor Co. and Honda Motor Co. and manufacturers cars and trucks under its own name.
The agreement came after General Motors Co. in December sold its 7 percent stake in Peugeot.
Total auto sales in China rose last year by 15.7 percent despite a steady decline in growth in recent years. Growth is expected to fall further this year to 8 to 10 percent, still well above levels forecast for the United States, Europe and Japan.
The Dongfeng statement's reference to cooperation with Peugeot in overseas distribution raises the possibility their joint venture might export vehicles, an unusual step in China.
Global automakers that want government permission to manufacture in China are required to work through local partners. Such ventures usually focus on China's domestic market and avoid exports that would compete with the global brands' operations abroad. The only major exception is a venture by GM and its main Chinese partner in India to sell cars developed in China.
The Dongfeng-Peugeot ownership ties might help clear the way to exports by reducing potential financial conflict with the French partner's factories abroad, said Zhang.
"Once their shareholding is closer, they can share profits because they are one big family," he said.
Associated Press writer Greg Keller in Paris contributed to this article.