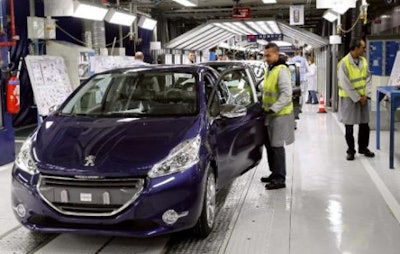 BEIJING (AP) -- French automakers Renault and Peugeot are looking belatedly to China to revive their flagging fortunes but picked a tough time to try to expand.
Three decades after Volkswagen became the first global automaker to produce cars in China in 1984, Renault SA announced plans in December for a Chinese factory.
France's biggest auto brand, PSA Peugeot Citroen, in China since the '80s without carving out significant market share, says it will be more aggressive after its local partner, Dongfeng Motor Co., last week agreed to take a 14 percent stake in PSA.
Their motivation is clear: Europe's auto sales slumped last year to their lowest level since 1995, forcing French brands to join U.S. and European rivals in looking to China to drive revenues.
"PSA is back on the attack," said its chairman, Philippe Varin, in a video distributed by the company. "We will benefit from the support of our Chinese partner."
But the timing is awkward. Growth in China's crowded market has decelerated and competition is intensifying. Sales in 2013 rose 15 percent, robust by Western standards but less than half of 2009's growth.
They face competition from market leaders including VW and General Motors Co., which have nationwide dealer networks and are neck-and-neck for the title of China's top-selling auto brand with just under a 10 percent market share each. Toyota, Nissan and Ford have been in China for a decade. All spend heavily to create models for Chinese tastes. Despite more than two decades in China, PSA's market share is just 3.5 percent.
"It is not an easy market to tap into now," said industry analyst John Zeng of LMC Automotive. "The market leaders are trying very hard to protect their market share."
Renault CEO Carlos Ghosn rejected suggestions the automaker might be too late. He pointed to the experience of Nissan, where he also is CEO under an alliance between the two automakers.
"I heard the same thing: Aren't you coming too late to China?" he said. "Ten years later, Nissan is the top Japanese brand in China."
"The question of arriving too early or too late is not relevant," Ghosn said in an interview. "What is relevant is that, you know, whenever you come, just make sure you are focused on China, doing a good job, both in terms of localization and in terms of product effort and in terms of investments."
The contrast with Europe and the urgency of ramping up business in China is stark in the French automakers' corporate results.
Peugeot reported a 2.3 billion euro ($3.2 billion) loss last year as its sales in France and other European markets edged down to just over 2.8 million vehicles. In China, sales by its joint venture with Dongfeng rose 26.1 percent, though to a still-modest 550,000 vehicles.
The investment deal unveiled Feb. 19 calls for Dongfeng and the French government each to inject 800 million euros ($1.1 billion) in Peugeot. In exchange, the two of them and the Peugeot family each will own equal 14 percent stakes. Along with a rights issue to other shareholders, Peugeot aims to raise a total of 3 billion euros ($4.1 billion).
In China, Peugeot wants to raise production to 1.5 million vehicles a year by early in the next decade, which would match VW and GM levels today. It says it will tighten links with Dongfeng and set up a venture to export Chinese-made cars to Southeast Asia.
As for Renault SA, it made money last year but its profit was down 65 percent from 2012 at 586 million euros ($761 million). The maker of the Twingo and Clio blamed restructuring costs.
Renault, which also is partnered with Dongfeng, says the first vehicles from its 7.8 billion yuan ($1.3 billion) factory in Dongfeng's home city of Wuhan in central China are due to hit the market in 2016.
Dongfeng, China's second-biggest automaker, also manufactures vehicles for Nissan, Honda Motor Co. and South Korea's Kia Motor Co.
That thicket of alliances reflects the unusual nature of China's heavily regulated auto industry.
Foreign brands are required to work through state-owned local partners. That forces multiple global brands to sign up with the same Chinese partner, entrusting them with technology even though they work closely with competitors.
The Chinese partners have their own goals and are under pressure to carry out the ruling Communist Party's industry plans. Business also can be complicated by political and regional rivalry. Renault negotiated with Dongfeng for nearly a decade over its planned factory. A key stumbling block reportedly was Dongfeng's resistance to building it in the southern city of Guangzhou, where it could draw on Nissan's supplier network.
Peugeot launched its first China venture in 1985, a year after Volkswagen AG set up its venture with Shanghai Automotive Industries Corp. That venture with the city government of Guangzhou did poorly and was shut down.
Peugeot's venture with Dongfeng produced its first car in 1992, giving the French brand an early foothold. But while U.S., European and Japanese rivals made China a focus of their global plans, Peugeot concentrated on Europe. It has stepped up efforts over the past two years with initiatives that include joining in the trend for creating extended-wheelbase sedans to appeal to Chinese executives.
The biggest benefit from Renault's move might go not to the French brand but to its partner, Nissan, said Zeng. He said acting as a "dual brand" will help to dilute Nissan's identity as a Japanese company at a time of testy relations between Beijing and Tokyo.
AP Business Writer Yuri Kageyama in Tokyo contributed.