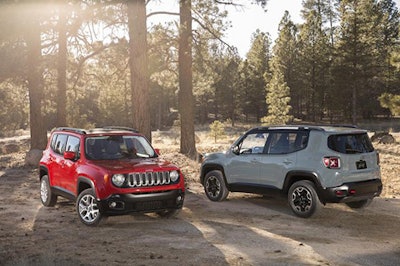 The Jeep Renegade is, in many ways, symbolic of the divisive merger between Italian Fiat and Jeep's parent company, Chrysler — it's a little bit Fiat 500 and a little bit the classic, rugged styling that one might find on a Wrangler. And it could speak to not only the merged companies' future styling, but also a possible business plan that they hope might be appealing to consumers around the world.
The Renegade is Jeep's first foray into the small SUV market, but it doesn't give up on the company's off-roading pedigree — at least with the Trailhawk model, which comes with Jeep Active Drive Low, featuring a 20:1 crawl ratio. It's also built with what the company calls a "small-wide 4x4 architecture" for off-road capability and good on-road driving. There are 16 different powertrain options, including the first nine-speed automatic in a small SUV.
All throughout its press release on the Jeep Renegade, the company emphasizes how the vehicles is the first in a "global" effort within "global" markets. The sleek styling is meant to be more appealing to younger — and European — markets, while the powertrain options, sourced from plants in the U.S., Italy and Brazil, help make them more appealing to markets that prefer diesel to a larger extent, such as Europe. Those offerings include four MultiAir gasoline engines, two MultiJet II diesels, an E.torQ rotary engine, plus start-and-stop technology.
The Jeep Renegade is "designed in America and crafted in Italy," according to the company, and will be first assembled at the Melfi Assembly Plant — a far cry from Jeep's assembly headquarters in Toledo, Ohio, or even North America. It will be the only Jeep built outside North America, and will be exported to the U.S. by the end of this year, with European deliveries starting in September.
Part of the choice to develop the vehicle in Italy is to fill under-utilized plants in Italy, which haven't been all that busy amid the painful sales slump that's occurring across Europe. This move should make the Italian workers, and their respective unions, quite happy in the meantime.
There are plans to expand Renegade production to other countries, although not the U.S., or anywhere in North America. Fiat plans to build the Renegade in Brazil beginning this year, and wants to make the vehicle in China as well beginning in 2016. There is no word whether the Renegade will ever be produced in the U.S., although with production centers essentially surrounding North America across one sea or another, that seems unlikely.
These production changes could mean that future buyers may have to get used to the fact that a Jeep will not always be U.S.- or North American-made, even partly. And it could mean that in the merger, Fiat will aim to pull more control over what was once Chrysler's U.S. operations. What that means for a more iconic vehicle like the Wrangler — the Renegade's design inspiration — is yet to be seen.
---
Joel Hans is the managing editor of Manufacturing.net. He can be emailed at Joel.Hans@advantagemedia.com or followed on Twitter.