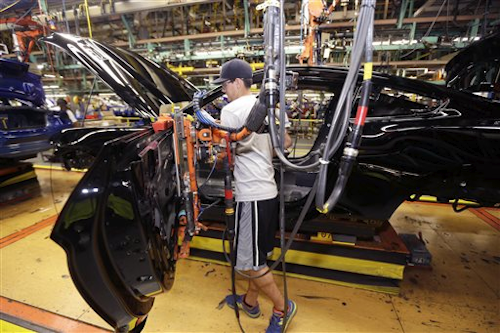 Industrial production in the U.S. declined for the third time in fourth months in November, according to the latest statistics from the Federal Reserve.

After production edged up in October, the index declined by 0.4 percent in November. Industrial output was also down 0.6 percent compared to the same month in 2015.

Output was particularly hurt by a 4.4 percent drop in the index for utilities, which saw reduced demand for heating due to warmer temperatures last month. The index for manufacturing alone declined by just 0.1 percent, while the mining index increased by 1.1 percent.

Within the manufacturing sector, production of durable goods slid by 0.3 percent due to a 2.3 percent decline in motor vehicles and parts. Primary metals, meanwhile, increased by 2.3 percent.

Petroleum and coal paced the non-durable category with a 3.3 percent gain, while plastics and rubber products fell by 1.4 percent. Non-durable goods output climbed by 0.3 percent in November.

The report also found a 0.4 decrease in capacity utilization in the industrial sector. The November rate of 75 percent was 5 percentage points below the average since 1972.

The Wall Street Journal reported that the Fed numbers sent mixed signals to economists, who associate higher output with gains in consumer spending, business investment and overall economic activity.

"Through the volatility, the trend in manufacturing is probably at least modestly positive and the oil-drilling-led plunge in mining seems to have ended," Jim O'Sullivan of High Frequency Economics said in a note, according to the Journal.