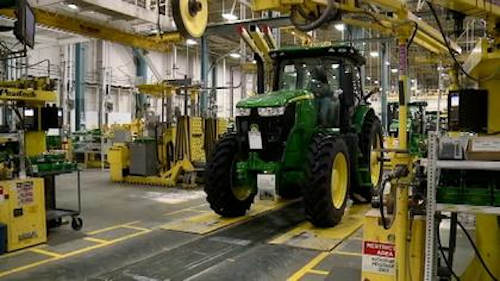 A John Deere plant is celebrating a new milestone — building 2 million engines.
The John Deere Engne Works plant in Waterloo, Iowa, which opened 40 years ago, has completed building engine 2 million last month. The engine now calls a tractor — an 8345R model — home. Assembly of the tractor was completed at the Deer's East Donald Street plant. 
While employees say every engine is important, No. 2 million holds a special historical significance.
"It's a milestone for all of us. It's a really neat thing, because it's big for the community," said Kenny Hager, a 20-year Deere employee and member if United Auto Workers Local 838. "A lot of people asked me over the years, does this affect you? Well it's brought up three or four generations of my family, working here. They told me the quality of the engine is what made that tractor green. So I take it real seriously. And fact that it's under one brand all these years is wonderful, the tractor and the engine. I'm the third generation. My son is the fourth generation; he's an electrician at the foundry."