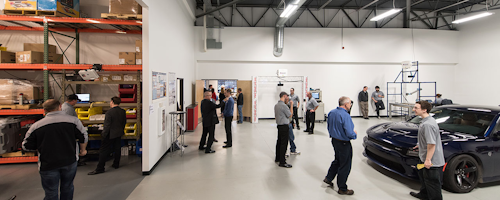 WIXOM, MI — Light Guide Systems, an augmented reality tool that is transforming manual assembly and manufacturing processes for companies worldwide, has expanded its regional footprint by building out a larger and more robust facility in Wixom, MI. OPS Solutions founder, president and CEO Paul Ryznar made the announcement.
The new 10,000-square-foot facility will provide OPS Solutions' leading team of engineers with a substantial and custom-built space to hone advanced features and demonstrate new manufacturing and assembly applications for Light Guide Systems.
"Demand for our augmented reality technology has grown dramatically in the last several years and we are excited to expand operations in Southeast Michigan's technology corridor," Ryznar said. "While our global presence is increasing steadily, it is critical to be part of the strong manufacturing landscape in Detroit and we look forward to growing our partnerships with powerful manufacturers to make factory floors smarter, safer and better with technology."
Light Guide Systems Classic helps reduces errors and radically improve manufacturing and assembly processes by projecting a digital operating "canvas" directly onto virtually any work surface and providing audio and visual prompts, guidance, pacing and direction. Light Guide Systems Pro takes the tool to the next level by incorporating its proprietary software into the powerful yet compact Sprout Pro by HP PC platform to deliver a clean and compact package that is portable, flexible and affordable.
OPS Solutions works with high-profile manufacturers such as Daimler AG, Fiat-Chrysler Group, Ford, General Motors, Johnson Controls, Magna and UGN. These companies benefit from Light Guide Systems' No-Faults Forward approach, along with the control that comes from real time data and standardized sequencing.
The Wixom facility is now open and operational, employing a local staff of approximately 22.