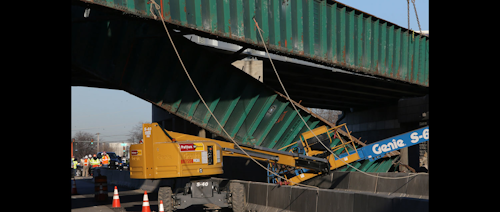 Authorities are investigating two companies after a highway construction worker was killed and three others were injured early Tuesday morning by a falling 45-ton beam in Des Plaines, IL.
The beam, which officials said is 187 feet long and weighs around 90,000 pounds, fell at a construction site on the Jane Addams Memorial Tollway shortly before 3 a.m. in Des Plaines, a northwest suburb of Chicago.
Des Plaines Police Chief Bull Kushner told NBC5 Chicago that the beam, used to support the bridge, was being moved by two cranes across the I-90 roadway at the time when the weight load shifted, causing the beam to crash down on the four workers below.
The workers were taken to area hospitals, where three were treated and released, while the other was pronounced dead.
OSHA is one of the authorities investigating the accident, which caused massive traffic backups in the area. WGN reports that subcontractor Omega Demolition, the company that employed the four workers, and general contractor Judlau are the companies being investigated, and that both have a history of OSHA violations.
WGN said Omega has received nine OSHA citations since 2006, mainly for lead hazards, while Judlau received 13 violations in the past 10 years.
Here's WGN's news report Wednesday morning: